February 27, 2011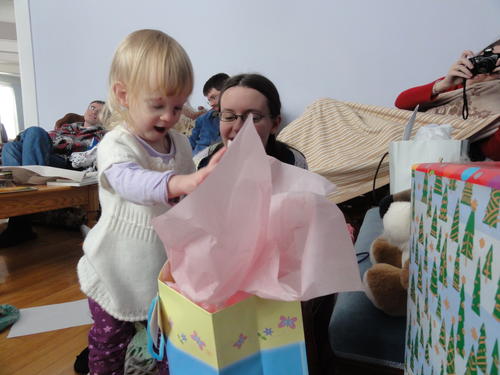 We celebrated Elizabeth's birthday today. I asked her what she wanted for lunch and to my surprise she demanded pizza. So we had make-your-own-pizzas with broccoli on the side. I didn't ask what kind of cake, since we all felt that something chocolate was rather obvious! I told Erika we would have worms for lunch. She didn't quite believe me but was very happy to help me and Elizabeth decorate our "dirt cake". I made a chocolate cake base, some homemade egg-free chocolate mousse and crushed Kinnikinnick gluten free oreos for the topping. My mouth is watering just remembering...
Grandma and Grandpa J, Uncle Dave and Auntie Karen, Auntie Janice, Uncle Chris, Erika, Maria, Auntie Heather and friend Jesse all crowded around the table with us. Elizabeth wasn't quite sure what to do with the candles on her cake, so everyone helped her blow them out. She had no trouble figuring out what to do with the cake itself.
After lunch we let lucky Elizabeth open the large assortment of presents, which she did with alacrity. Auntie Janice asked Elizabeth what she wanted for her birthday and Elizabeth told her she wanted a dragon. So Auntie Janice has spent the last few days secreted in our guest bedroom making pounding noises. Lots of jokes about our woodpecker infestation and we were even starting to wonder if woodpeckers were dragon food or something! Isn't that sheet fantastic??? Can you believe Janice stencilled every single dragon by hand???
Auntie Heather brought Elizabeth two singing ducks. One walks and tells you off if you pick him up by his ears and the other flaps his wings and giggles if you tickle him. Elizabeth loves them. At first she wanted to bring them to bed with her but I think we've convinced her they belong in the basement. (Singing ducks at 4am would be very unpopular with Daddy, and this child already knows how to turn the off switch back on.)
When Janice was little, Uncle Dave decided one Christmas that he needed to get her "the biggest bear he could find". So I guess I shouldn't be surprised by the enormous sheep that has come to live with Elizabeth. Based on the size progression the next stuffed animal he buys may not fit in his car. Auntie Karen observed that "Fat Sheep" is going to become "Flat sheep" - Elizabeth likes to pretend to ride it "like a horsie".
Elizabeth also received some play food (sushi! toy lettuce with velco-detachable leaves! garlic!) from her cousins, books from Uncle Dave, Auntie Karen and Auntie Janice and a snazzy new life jacket from Grandma and Grandpa.
She had a couple of other gifts still hidden away, but we opted to open them another day!
You might also like
- A beanie boo birthday party
(0.445865)
- Crazy Pickles
(0.426942)
- Cousin sleepover
(0.422597)
- Homeschool wk apr 14-17
(0.422445)
- A shower and the Great Glebe Garage Sale!
(0.421746)
All