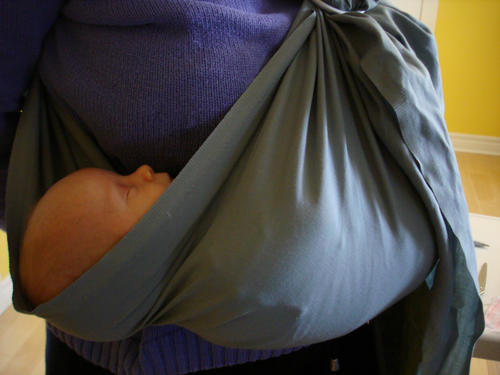 I've been working on experimenting with various slings and carriers as it (at least theoretically) allows for hands-free baby operating. My sister-in-law lent me a couple of carriers, but Elizabeth is still too little for them. I think they are intended for babies with stable necks, and while Elizabeth can hold her head up pretty well, she is prone to clunking her head down or to the side periodically when the weight is a bit much. So it is still important to hold her head just in case! She'd also slip right out through one of the legs.
So I was very happy when my friend Janet gave me a ring sling as a gift, and with instructions from Slingtastic and Mayawrap.com, as well as a lot of trial and error I think Elizabeth and I have started to get the hang of this!
I think that makes me an official one of these:

1
On March 21, 2009 at 03:09 pm
Linda
said:
Thanks for stopping by my blog. It's nice to meet a fellow celiac. I'll check out your recipes soon. To answer your question, no I haven't gotten many gluten-free stories. If you want to send me yours I'd love to write a post about you.