March 5, 2011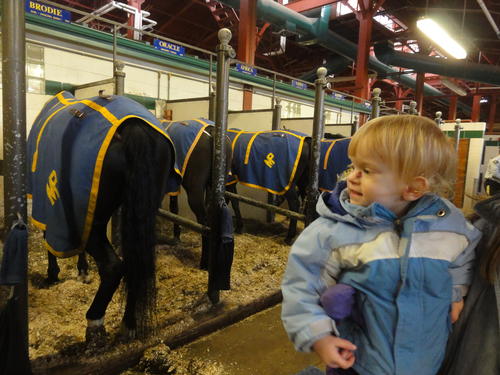 We went to the RCMP Open House, where we met Mounties and many, many horsies.
I know that I've never been to the Stables and I don't think I've even seen the Musical Ride before. I had previously thought that it was kind of like the changing of the guard on horses (aka not that exciting), but it's more like a dance on horses. We'll have to come and see it for real in the summer!
The open house turned out to include a myriad of law enforcement groups, including riot police, the bomb squad, prison transfer, paramedics, the OPP, Ottawa Police, and the computer crime guys. (This is not an exhaustive list.) There was a fun looking obstacle course setup, but Elizabeth was not old or coordinated enough to attempt it, so we went to say hello to the bomb unit's robots instead. Even though the robot waved and generally attempted to convince Elizabeth it was harmless, she was not convinced. Seeing as it was equipped with water cannons capable of blowing windshield fluid through a briefcase, this was not exactly an irrational response.
We were very interested by the friendly and informative computer crime technician. Brendan was extremely amused by their demo laptop's blue and red flashing lights. Apparently this wasn't a special feature for the RCMP, just a happy coincidence since they usually buy gaming machines for the processing power! The technician explained how they copy harddrives in a forensically sound manner (it's important not to modify any files by accessing them since the dates will often be used in court) and showed off their faraday pouch for cellphones to prevent people from wiping the phone after it's been confiscated. They had a pretty fancy machine for copying cellphone data too, with all kinds of different cellphone adapters built in.
We opted not to get Elizabeth to dress up in riot gear but we were quite impressed with how personable the riot police were - some of the other staff were clearly only there because they had to be and did not enjoy interacting with the public - but most were in their element. Strangely, the riot police were actually some of the friendliest people there, which is saying something!
While I enjoyed the event, I didn't leave feeling all warm and fuzzy about law enforcement. This was entirely due to our tour of a prisoner transfer truck, which I found completely horrifying despite the very personable prisoner transfer guy. I've long been somewhat suspicious about the lack of seatbelts in buses, but the Transport Canada insists that no seatbelts are actually safer due to the design of the bus. The prisoner transfer truck did not appear to have any seatbelts either, but unlike a bus, the interior is bare metal with sharp angled edges. They then cram six prisoners into each middle compartment and two in the back. All prisoners are shackled hand and foot (and attached to the van?)
I couldn't help but notice that the horses are transported in a safer and more comfortable truck. I cannot believe that such conditions are considered acceptable in this day and age, particularly since the truck is used to transport at least some people who have not yet been judged guilty.
1
On March 9, 2011 at 02:41 pm
Grandma H.
said:
Are you supposed to feel warm and fuzzy about law enforcement?

About the horses--is that the name on the blue sign (with parents below)? If so, nice name! Do they shave inside the maple leaf stencil, or is that paint? Nice effect.
2
On March 9, 2011 at 05:09 pm
Mary @ Parenthood
said:
I thought you'd like the name!!!



The sign shows the year the horse was born, the horse's regimental number, the names of their parents and their own name. Horses get named by kids who submit a name beginning with a particular letter (in 2003 it was A, this year it's I). The green dot has something to do with their food - some horses don't get oats and such.



The maple leaf stencil looks shaved but actually they just brush the horse's hair backwards over a stencil to achieve that effect! It apparently takes two RCMP officers but only 30 seconds or so.



Days later, I STILL am shocked by the prisoner transfer trucks. Unless I really misunderstood something, I cannot understand how these are even allowed in a supposedly civilized society. I don't think this was the main takeaway the event organizers intended somehow!
You might also like
- Museum of Science & Technology
(0.450767)
- Doors Open: Robert O. Pickard Environmental Centre
(0.443667)
- Doors Open Ottawa 2009 - Traffic Operations
(0.441344)
- Mary and Andrea visit
(0.440798)
- Healthy Girl
(0.438549)
All