March 17, 2011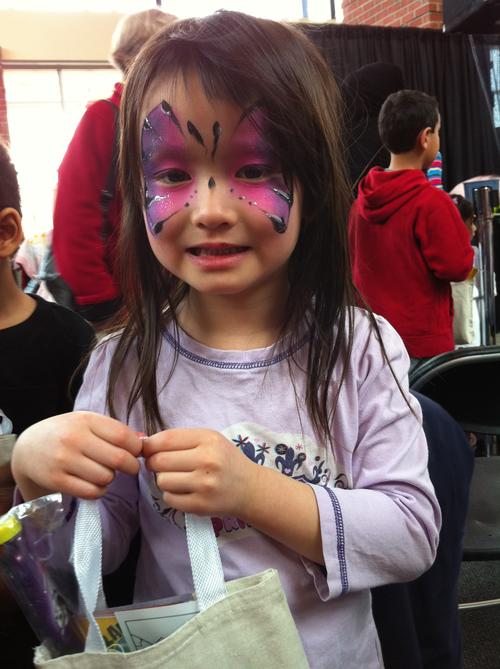 Ottawa has a lot of special March Break activities. On Tuesday Elizabeth and I saw a presentation by Little Ray's Reptile Zoo at Billings Bridge shopping mall. We saw all kinds of reptiles, plus one tarantula and a White's tree frog. Elizabeth was happy to look from a distance until the zookeeper brought out the "crocodile" (actually it was a pygmy caiman), which she desperately wanted to pet. I had to promise her we'd visit him at his house later. The last animal was a very large albino burmese python. The snake was so long it covered the whole stage, so the zookeeper spread it out and let anyone in the audience come to pet it. Elizabeth was very keen while standing in line but when we actually got up close and personal she had second thoughts. So Mommy petted it instead while Elizabeth gazed at the tongue flicking in and out in fascination.
Today I took Elizabeth and her cousins back to Billings for a Radical Science show. Erika bravely volunteered to drink bubbling dry ice mixed with soapy water, which she decided tasted like soda water. The demonstrator told the audience it should have tasted like the "cleanest burp you've ever tasted". Yummy! Mid-show Elizabeth decided she had to pee, so I abandoned the stroller with a nice looking mom and herded the kids to and from the bathroom. Erika got a special loot bag for being a volunteer.
Then we bussed home. Luckily Auntie Yukiko came for this part because three small children on a bus is just frightening. Lunch followed by fingerpainting followed by a visit to Grandma and Grandpa's for some bubble blowing, swimming and hot chocolate. Then Elizabeth and I picked up Auntie Janice and headed to the Museum of Nature to see a special exhibit about the North and South poles. Elizabeth agrees that the slide is the best part. I agree that the slide is rather Darwinian. I had to speak progressively more sternly to one little boy who not only kept pushing Elizabeth but actually stopped her midslide in order to try to pull her birthmarks off her face. Meanwhile his dad was busy snapping photos. Elizabeth was completely unphased - too excited about pretending to be a penguin to waste any time being upset!
1
On March 18, 2011 at 07:55 am
Melanie
said:
Hi Mary,



Great blog! You left a great story about reading on my blog and I'd like to send you the books! Please email me and we can co-ordinate how to get them to you!



Melanie.
2
On March 19, 2011 at 10:43 am
Grandma H.
said:
Lovely pictures! I especially like the faces behind the butterflies and penguins!
You might also like
- Butterfly Adventure
(0.42235)
- Family Day
(0.417121)
- Family Day
(0.411814)
- Cousin sleepover
(0.409467)
- Canoe Camping
(0.409261)
All