March 19, 2011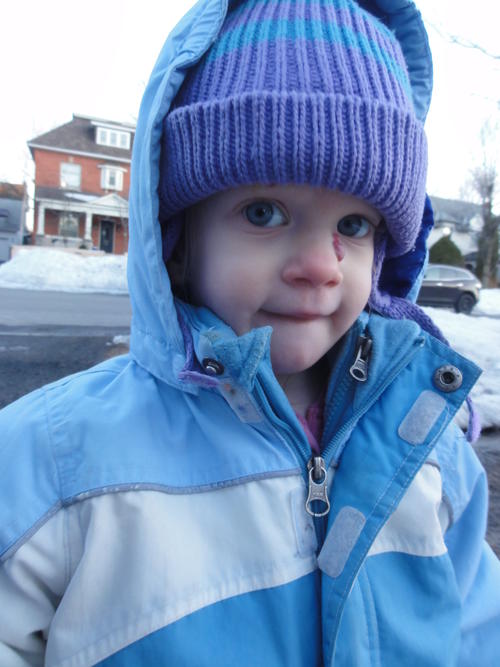 Apparently March winds are ill winds for us, but so far only Elizabeth is determined to repeat last year's extreme dieting program. Last night she had a popsicle for supper. It brought the only big smile of the day, but we regretted it later.
She did otherwise sleep well so we felt brave enough to let her have some breakfast. She ate two bites of pancake and then declared she needed a nap. She slept for two hours, threw up, then changed beds and slept for another four hours. I discovered that she likes to listen to classical music when she's sick, but nothing with too much violin.
She perked up around 6pm and insisted on going for a walk outside. Everything is melting and our daffodils are starting to poke through the ground! Elizabeth and I admired bird and raccoon tracks in the mud. The raccoon tracks were full of little plastic shavings from our green bin...
1
On March 21, 2011 at 05:06 pm
Grandma H.
said:
So glad to hear the extreme dieting program is losing impetus and there are signs of spring!

Green plastic shavings between the raccoon's toes sounds like a new fad.
You might also like
- First Snow
(0.346648)
- Canal
(0.34551)
- Rock Smash Hike
(0.344972)
- Lucy and Jack
(0.339529)
- Camp Otonabee
(0.336486)
All