March 21, 2011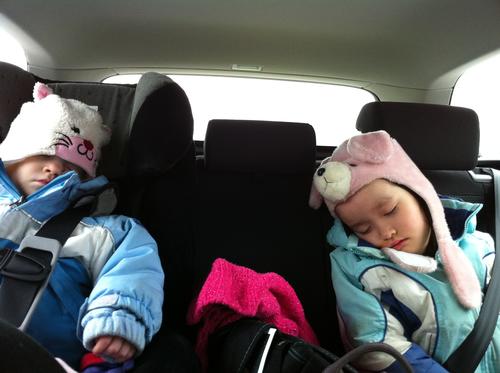 Elizabeth appears to have completely recovered from her recent bout of sickness. That must mean it's Daddy's turn. What better way to celebrate Spring? It's a new family tradition!
I was scheduled to look after cousin Erika while little sister went for a follow-up appointment at CHEO. Since I was feeling fine, I thought everything would be fine as long as we didn't bring Erika to our house. BAD idea.
Despite my desire to see baby pigs I decided to avoid the animals (and smells) and took the girls to visit the Aviation museum. Erika and and Elizabeth had a wonderful time. I did not. Shortly after we arrived I started to feel unwell. Luckily Auntie Janice was working and I was able to leave the girls with her while I visited the facilities. I can now report that of all the places to be taken violently ill, the Aviation Museum is not bad.
Auntie Janice drove poor moaning me home at the end of her shift, complete with large garbage bag "just in case". Luckily I didn't need it.
The two girls fell asleep in the car on the way home. Elizabeth didn't notice Erika was missing until saying her prayers at bedtime. "Hey!" she said. "Where Erika go?"
1
On March 22, 2011 at 09:39 am
Adventures In Babywearing
said:
My husband is the last one to be hit with the sickness here! I hope he can make it!



Steph
2
On March 22, 2011 at 11:56 am
Jasmine
said:
Ah yes, I love sleeping babies... especially in the car!
3
On March 26, 2011 at 02:52 pm
Auntie Janice
said:
We do also have a first aid room... where you can lie down and such, but I figured it was a bit too far away for you and possibly a bit too much fuss. Good timing, tho'- it was super quiet at the museum.
You might also like
- Bells and Smells
(0.374687)
- Cottage Days: Boating to Dorset
(0.371524)
- Mommy dear, I NEED to see the cows
(0.370572)
- Let's go fly a kite
(0.369128)
- Elizabeth's 9th birthday party
(0.367495)
All