March 23, 2011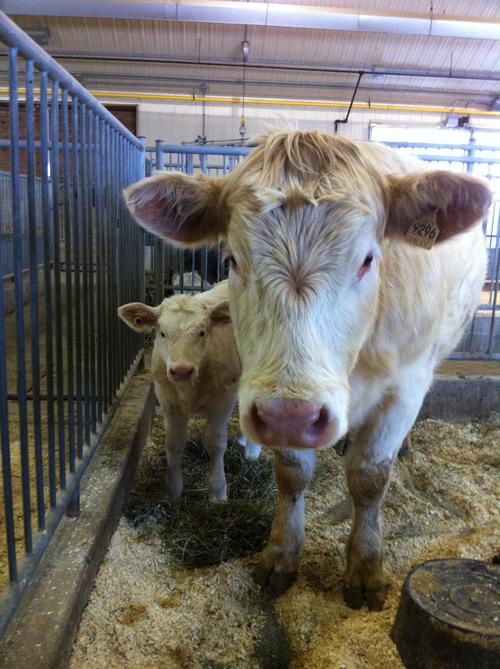 Daddy needed some peace and quiet to try and get some work done, and I am feeling somewhat better. Elizabeth's been asking to go visit the Agriculture Museum every day since she got better. Multiple times a day. So when she asked me today if she could go "walking outside to see the animals", I agreed.
Elizabeth was so excited she didn't take a proper nap. Oops.
We arrived to discover BABY PIGS! It's true. Mama had twelve babies around noon today. Apparently she just popped them out one after the other. One baby immediately tried to get back in! By the time we arrived they were all happily nursing. Elizabeth was fascinated. Perhaps not as fascinated as her Mommy though. It's a good thing piglets grow up to be less cute, or I'd never be able to eat pork again.
When the museum closed, I explained (as I do) that the cows had to go to bed. Elizabeth agreed to go home and find Daddy. But we didn't even get out of the parking lot before Elizabeth suddenly piped up: "Mommy! Mommy dear! Mommy!" "Yes, Elizabeth?" I replied. "I NEED to see the cows!!!", she said.
Of course, when Auntie Janice asked her what she had seen today, Elizabeth claimed to have seen "AIRPLANES". Kids.
1
On March 24, 2011 at 05:02 pm
Grandpa H
said:
So Elizabeth is playing to an audience now... ;)
You might also like
- The birds and the bees
(0.384615)
- Where does Milk come from?
(0.372449)
- About the boy
(0.372318)
- Energy Garden
(0.371889)
- Rehearsal Dinner #RayCray2016
(0.370968)
All