April 3, 2011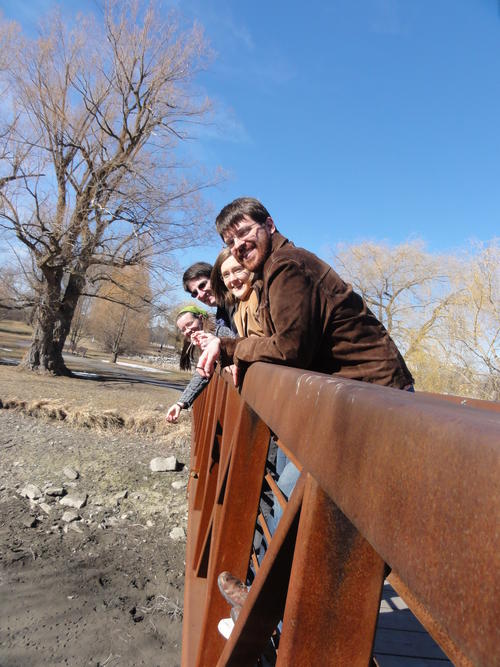 We went for a walk in the Arboretum with Uncle Dave, Auntie Karen and Auntie Janice. Elizabeth napped while we played Pooh Sticks.
"Pooh had just come to the bridge; and not looking where he was going, he tripped over something, and the fir-cone jerked out of his paw into the river. 'Bother,' said Pooh, as it floated slowly under the bridge, and he went back to get another fir-cone which had a rhyme to it. But then he thought that he would just look at the river instead, because it was a peaceful sort of day, so he lay down and looked at it, and it slipped slowly away beneath him, and suddenly, there was his fir-cone slipping away too.
'That's funny,' said Pooh. 'I dropped it on the other side,' said Pooh, 'and it came out on this side! I wonder if it would do it again?' And he went back for some more fir-cones. It did. It kept on doing it. Then he dropped two in at once, and leant over the bridge to see which of them would come out first; and one of them did; but as they were both the same size, he didn't know if it was the one which he wanted to win, or the other one. So the next time he dropped one big one and one little one, and the big one came out first, which was what he had said it would do, and the little one came out last, which was what he had said it would do, so he had won twice ... and when he went home for tea, he had won thirty-six and lost twenty-eight, which meant that he was - that he had - well, you take twenty-eight from thirty-six, and that's what he was. Instead of the other way round.
And that was the beginning of the game called Poohsticks, which Pooh invented, and which he and his friends used to play on the edge of the Forest. But they played with sticks instead of fir-cones, because they were easier to mark.'"
A.A. Milne in The House at Pooh Corner
You might also like
- LRT Grand Opening
(0.380764)
- Piano Recital
(0.374831)
- Cousins at the Beach
(0.372881)
- Dance Camp
(0.369104)
- Cousin Camp: Sleepover
(0.368775)
All