April 16, 2011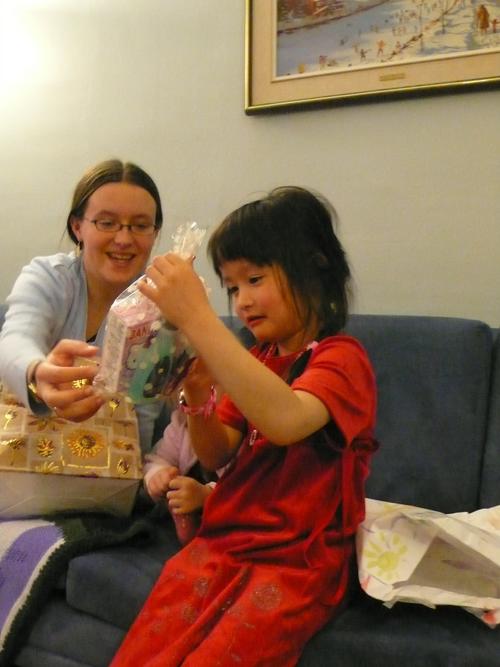 Clearly there has been a mistake, because it is too soon for Erika to be celebrating her first half-decade. In just a couple of years she'll be the same age as Auntie Janice! (Auntie Janice was seven when Brendan first met her, so for years he teased that she was going to stay seven forever in his mind. When she got her driving license, he let her "grow up" a year or so.) I AM wearing the bottom of my trousers rolled, so maybe that has something to do with it.
When Erika was littler, I had a special section in my purse just for her. I stocked it with different objects that I thought she might find amusing (flashlight, stuffed animal, measuring tape etc). I stopped carrying a purse when I started toting around a diaper bag, but Erika is still interested in the contents of my pockets. Mostly because she wants to play games on my phone.
I asked her what she wanted for her birthday and received very specific instructions. A "princess" dress. Not scratchy. Long skirt. Short sleeved. Pink. With flowers. And ribbons. We celebrated with a lovely dinner of roast pork and chocolate birthday cake. Brendan, Elizabeth and I, Geoff Gordon, Grandma and Grandpa J, Uncle Dave, Auntie Karen (and the "likkle baby in tummy"), Auntie Janice and of course the birthday girl herself and her family. Afterwards a frenzy of gift unwrapping. It's hard to say which of the three girls were more excited. Erika carefully read every card before ripping into the paper. Elizabeth may have "helped" unwap a few presents when she thought Erika wasn't getting on with the program fast enough.
Elizabeth sang Happy Birthday to Erika for a couple of days before and after.
You might also like
- Family Day
(0.414019)
- Party Girl
(0.405133)
- A beanie boo birthday party
(0.404959)
- End of an Era
(0.402793)
- 21 Months
(0.402539)
All