March 30, 2009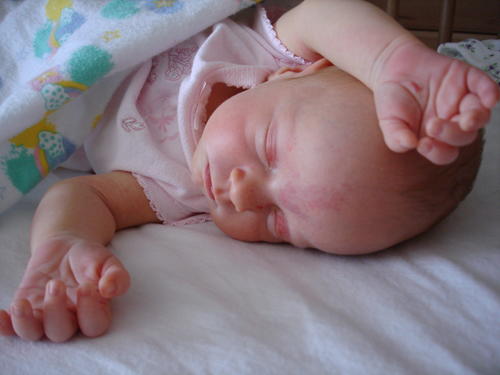 At one month of age, Elizabeth is a highly effective stress reduction machine. For everyone except perhaps her parents...
We're still figuring out the routines needed to get all of us out of the house and actually go somewhere. We've managed this great feat twice as we went to house group on Wednesday (we think we must officially have the biggest age range of any other house group now!) and to visit Grandma and Grandpa H on Sunday. Having an extra person to get ready doesn't seem to have improved our punctuality somehow, but we're starting to get the hang of organizing life around sleepy times. I know babies at this age are theoretically very portable, but we're firmly in the camp that believes one should not wake a sleeping baby. Parents that do must have children without the tendency to turn into Captain Cranky-Pants... Or else they are just a lot braver than we are :)
We practiced getting ready for church on Sunday, but stopped short of actually going when we realized we'd forgotten to pack a baby survival kit. There was the slight issue of the service already being more than halfway over, too... Maybe next week!
1
On March 31, 2009 at 06:08 pm
Kathy G (from Kitchener)
said:
Hello

You have a beautiful daughter--what a precious gift from God! Your pictures are lovely and the updates are wonderful. Enjoy each day with your wee one!

P.S. (I remember when you were a baby, Mary!)
You might also like
- We may never have to clothe our daughter
(0.364428)
- Cottage tooth fairy, swim, more fish, ponies
(0.361834)
- Skating Show
(0.351873)
- Rachel and Andrew
(0.351384)
- Baby Summit 2015
(0.350649)
All