April 24, 2011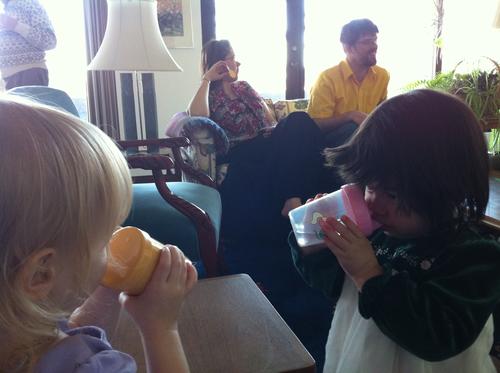 He is risen! Alleluia!
Ed. note: Okay, okay, so Easter was a while ago but I'm only just getting around to posting our pictures. We've been super busy at work completing a major software implementation three years in the making...
Friend Janice gave Elizabeth her own Easter bunny, which Elizabeth loved so much she insisted on bringing him to bed. In the morning, Easter bunny hopped around for a while and then went downstairs to hunt eggs. Elizabeth was quite charmed by the egg hunt. Mommy and Daddy were pleased that we managed to find all of the eggs hidden by Auntie Janice the night before.
We headed to church for the Easter service. Elizabeth went happily to Sunday school without either parent. Fifteen minutes into the service the pager went off. Apparently Elizabeth looked around the classroom, couldn't locate either parent and burst into tears. Daddy went to the rescue but she was inconsolable. Back in the service she coloured happily but when she started her own sermon half way into the guest preacher's talk we decided she was being too distracting. Daddy took her outside for a walk. She got more and more upset and finally peed all over Daddy. That's when we discovered that we had neglected to bring a change of clothes. She wore my sweater home.
Later in the day we did have a lovely dinner at Grandma and Grandpa J's with Geoff, Janice, NEW BOYFRIEND Kevin (tee hee), Uncle Chris, Auntie Yukiko, cousins Erika and Maria, Uncle Dave, Auntie Karen and little Darren* in Auntie Karen's tummy.
*Darren = Dave + Karen. Dave is so lucky that the eldest sibling doesn't get exclusive naming rights.
1
On May 7, 2011 at 01:23 pm
Grandma H.
said:
What a pretty Easter dress!
You might also like
- Family Retreat (Part I)
(0.403545)
- Mary Day
(0.391855)
- Erika and Maria
(0.391642)
- Mother's Day
(0.390487)
- Halloween
(0.390355)
All