May 2, 2011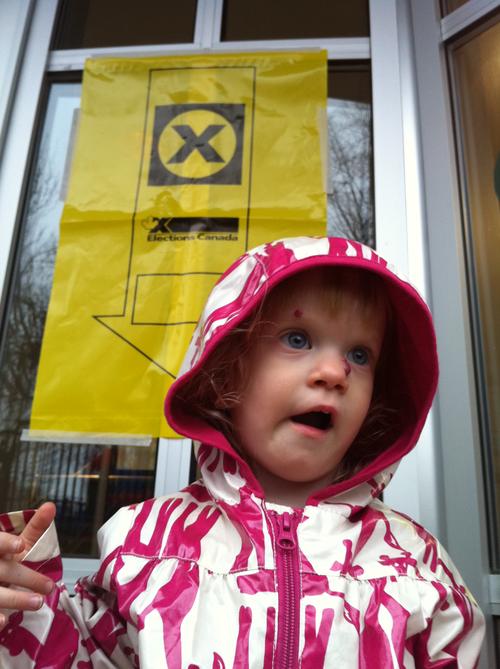 We take our civic duties very seriously over here, so Elizabeth got to vote three times.
First she voted with Grandma and Grandpa, then later with Mommy. Daddy and Auntie Janice voted too, but she didn't get to inspect their votes up close and personal. Hopefully this isn't an election law violation, but she actually filled out my card because she felt left out watching all the adults "colour". I did insist on said colouring being a neat-ish X in the appropriate bubble.
1
On May 10, 2011 at 04:12 pm
Grandpa H
said:
I was going to rail on about not one but several blatant violations of the Canada Elections Act, but that raincoat is just too cute... :)
2
On May 10, 2011 at 05:47 pm
Rachel
said:
Fun! Ali loves to go vote with me...just as I loved to go vote with my Mom when I was little!
You might also like
- Isabelle's dedication
(0.318396)
- Happy Birthday Grandma J
(0.31323)
- Christmas Cake 2012
(0.311891)
- Skating with Angie
(0.30787)
- Karate Nationals
(0.303665)
All