April 28, 2011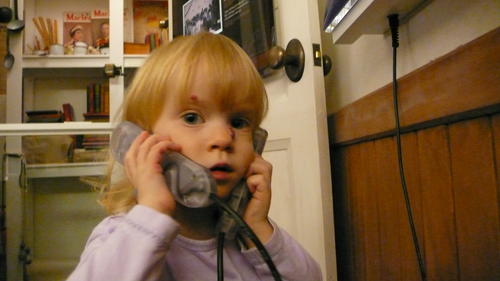 Auntie Janice took Elizabeth to the Museum of Civilization the other day. They played hard in the theatre, went to the postage museum and Canada Hall. They came back with hats and reams of footage going up and down the escalator. Apparently learning how to take an escalator "by self" was the best part.
We purchased a membership to the museum in February, and it's a good thing since we've been so often that the staff are starting to recognize Elizabeth. The museum is on the way to work so I've been dropping her off with a grownup playmate and pick them up when I'm done.
The only trouble comes if I go to work without Elizabeth. My auto pilot gets lost if I don't drive past the museum first, so I've driven more than my share of circles.
Janice has also recently taught Elizabeth how to sew "by self". We've been working on a quilt (more about that soon!), so sewing and quilting has been a major preoccupation for some months. Janice talked me into exhibiting the quilt at the Ottawa Valley Quilters show May 6-8 2011, so we've sewed and sewed and sewed some more. Elizabeth is very proud of her own sewing cards, although she hasn't quite got the hang of going dot-to-dot.
1
On May 7, 2011 at 01:29 pm
Grandma H.
said:
My girls have all learned to sew "by self". So very proud of them! and such great role models for Elizabeth.
You might also like
- Guided Tour
(0.353511)
- Decision making study
(0.339141)
- A shower and the Great Glebe Garage Sale!
(0.337598)
- Museum of Civilization
(0.336216)
- End of an Era
(0.335632)
All