March 26, 2009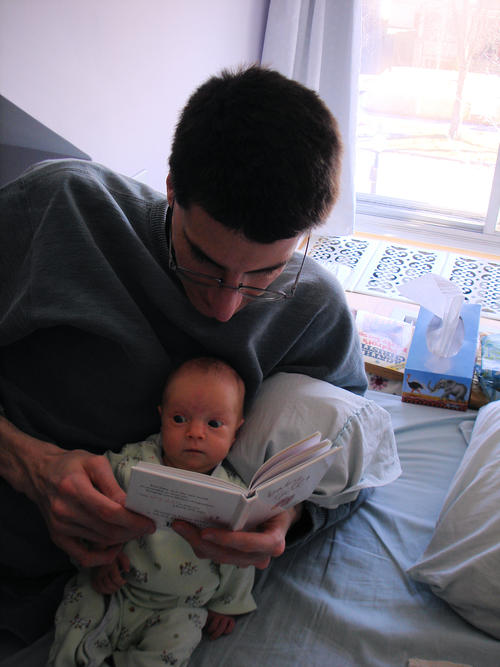 Last appointment with midwife Jessica today, and Elizabeth now weighs seven pounds, seven ounces! Jessica was very impressed.
We're going to try switching to the cloth diapers when Elizabeth gets up to eight pounds, which should be next week at the current rate of growth. Since the end of disposable diapers may be in sight, we've predictably discovered that some disposables have more features than others and not all features are advertised. Did you know diapers have features? Me neither...
Specifically, the newborn Pampers we have at the moment want to make sure that new parents know that they are Sesame Street branded. This selling feature is mentioned several times on the package. What the Pampers package entirely omits to mention is that they have a wetness sensor built in and so you can tell if the diaper is wet by checking whether the stripe changes from yellow to blue.
Of course, it's doubtful our buying habits would have been influenced regardless of packaging - we started with Huggies because they sent us a free diaper and coupons in the mail, and then switched because our small local Loblaws only carries one brand of newborn diapers. In fact, the major brands for newborns seem pretty interchangeable in terms of features - the big difference (if you believe the packaging) seems to be which licensed character is printed on the outside. Is it just me or is the licensed character somewhat less of a selling feature than something that changes colour when the diaper needs to be changed??
You might also like
- Experimenting with cloth diapers
(0.410256)
- 33w 6d
(0.385201)
- Where does all the laundry come from?
(0.370192)
- 18w 5d
(0.367944)
- Extracurriculars start again
(0.365511)
All