May 7, 2011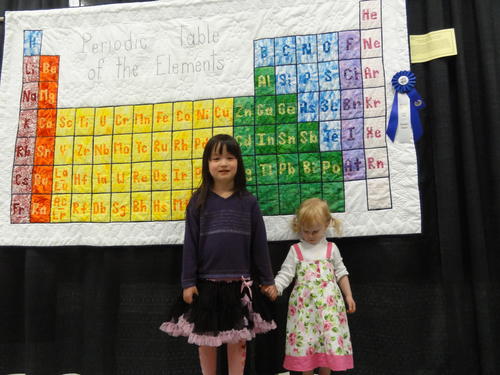 My sister got me interested in quilting when she suggested that we make a quilt for Erika. Erika's quilt was a little on the ambitious side. We cross stitched, we appliqued, we pieced and we even made little tiny dolls attached to the quilt. Janice and I have made five quilts together and most of them have turned into projects of epic proportions due to enthusiasm and tendency to get carried away. We keep vowing to scale back (but not to the point where the quilt becomes uninteresting to work on. Ahem.)
Anyway, all that to say that when my good friend Jess told me she was expecting I decided that we needed to make baby Nora a quilt. Besides, I'd had this idea. Janice liked my idea, but talked me into piecing all the letters instead of cross-stitching them, on the grounds that it would be more durable. Since I was a piecing novice and since she assured me it would be "easy", I agreed. (That's my story and I'm sticking to it!)
Originally I wanted to have the quilt ready by the time she was born, and then for last Christmas, and then by her first birthday. Little Nora is 14 months old now, but I'm pleased to announce that 89 squares and 2088 pieces later, the quilt is at last finished!
I am also much better at piecing. Something about practice... Janice entered the quilt in this year's "festival of quilts" show and this is how she described it:
"Inspired by my sister Mary's friend Jess, this quilt is for Jess' baby Nora. Jess was a science enthusiast in school and now does genomics research. Since her husband is an immunologist, a scientific quilt seemed perfect. The elements are grouped according to the NRC Periodic Table, although we omitted the F-block and left the unnamed elements blank. We pieced the quilt to last as Nora grows up, and chose bright contrasting colours to make a rainbow. I [Janice] learned to piece the alphabet from watching a TV show years ago."
1
On May 13, 2011 at 03:37 am
Grandpa H
said:
I'm deeply apologetic for your genetic inclination to get carried away with projects... ;)
2
On May 14, 2011 at 10:50 pm
Auntie Janice
said:
Just to clarify... I stated that piecing would be the most durable, and easier than applique. I did point out the scope, but it seems it didn't sink in. For either of us... Good thing :)
You might also like
- Tree bed
(0.391788)
- Gingerbread the 20th
(0.384551)
- Virtual School: Week 35
(0.38383)
- April Break
(0.374889)
- Child Labour
(0.374711)
All