May 10, 2011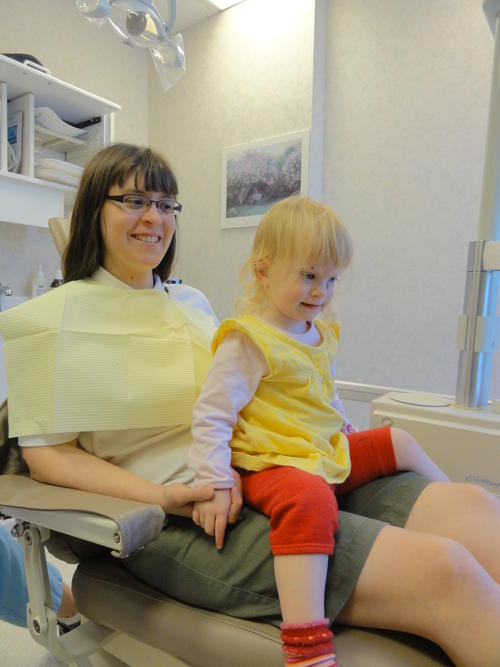 Our dentist asked us to bring Elizabeth in to our next few appointments so that when it's Elizabeth's turn for her first cleaning she'll be familiar with the process, the location and the people.
So today Elizabeth went to the dentist for the first time. We had to wake her from her nap. This worried us, but turned out to be a blessing in disguise since she was sleepy enough to sit quietly on Daddy's lap during the entire time that Mommy's teeth were being cleaned.
The hygienist explained what she was doing at every step and Elizabeth was very interested. "Now I'm washing Mommy's teeth." "Now I'm tickling them with my tooth-tickler" (electric toothbrush) "Now I'm using my special vaccuum"
Once my teeth were clean, Elizabeth sat on my lap and got a "ride" on the special chair. Then she opened her mouth wide and did some pretend eating for the dentist who took a quick peek at her teeth and bite. The focus was on creating a positive first experience so everything was very low key. Apparently her back molars are a little ahead of schedule, and she may have a slight overbite ("class II").
The dentist still doesn't recommend using toothpaste at this age.
We were strongly encouraged to brush and floss Elizabeth's teeth, so I was surprised that the dentist was surprised that we are actually doing this. I felt like reminding him that he had inflicted great pain on my mouth and wallet over the last few years. It's our goal to reduce Elizabeth's likelihood of knowing the joy of a root canal.
Elizabeth chose the shiny heart notepad to "coh-col" (colour) as her special prize, bypassing stamps, stickers and a princess tiara.
1
On May 14, 2011 at 03:52 pm
Grandpa H
said:
Despite being deprived of sufficient floride in my youth and subjected to 3rd world missionary dentists... actually my teeth aren't that bad! To date, no root canals, and I'm avoiding wisdom tooth extraction, threatened at age 20-something and again at age 40-something, through aggressive care especially at the first hint of infection.



Can you guess I'm wary of the dental industry?
2
On May 14, 2011 at 09:11 pm
Mary @ Parenthood
said:
Aren't you the guy with unhappy gums and teeth so sensitive that you actually bit one dentist?



Or was that my other Dad? :)
3
On May 15, 2011 at 12:16 pm
Grandpa H
said:
OK, so I have sensitive teeth. But I deny actually biting any dentists - yet!
You might also like
- Dentist again
(0.4)
- First Dentist Appointment
(0.394444)
- Baby Teeth
(0.392898)
- Big Baby Bed
(0.381687)
- The birds and the bees
(0.381057)
All