May 27, 2011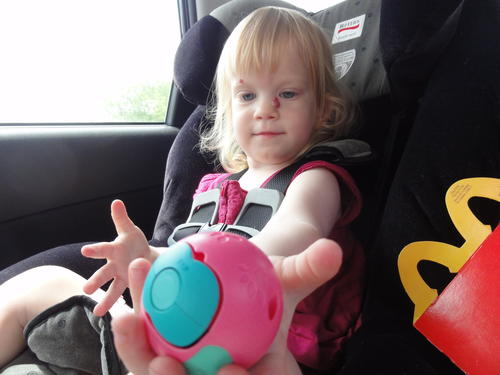 Elizabeth experienced a lot of "firsts" this trip. For instance, she saw her first feature film in a theater. For the record, it was an IMAX film about Niagara Falls "Legends and Daredevils". It was LOUD. It featured a suicide story, civil war and people trying to drown themselves and their pets in a quest for fame. We watched it at Elizabeth's supper time and into bedtime. My grandmother summed it up best: "Well, that was a really inappropriate movie for a two year old!" Luckily, Elizabeth survived the experience by nursing almost the entire time while Mommy blocked the baby's ears and wished she had her own earplugs. Extended nursing for the win!
Another questionable first: Happy meals. I regret to say that Elizabeth ate at McDonald's four times during this trip, mostly because it was one of the easiest places to "eat" gluten free. Not that it was exactly easy. I had to look up their allergy menu on my phone, and while it is possible to figure out what is gluten free from this document, doing so is very time consuming!
I needed every second of the more than fifteen minute wait to figure out what the heck I could order. And after reading the ingredients I had mostly lost my appetite. Janice ordered a Happy meal thinking she'd share with Elizabeth. I had vaguely thought toys were banned, but it turns out that's only in San Francisco.
"Girl or Boy toy", they asked. "Girl", Janice responded. We ended up with a really cute but weird pink ball that grows ears and eyes when you press a button. The Happy Meal container was one half weird pink ball decorations and the other half Tonka truck decorations, so when I ordered Elizabeth her own Happy Meal a few days later (I know - but honestly the other options were not much better!) I opted for the "boy" toy, since Elizabeth really likes trucks. So of course we got this weird and useless Einstein bobble head thing. Why McDonald's insists on labelling the toys by gender instead of the actual toy is beyond me.
You might also like
- Orchestre
(0.389027)
- A shower and the Great Glebe Garage Sale!
(0.382302)
-
(0.380691)
- 5th Birthday Party
(0.380293)
- London
(0.379125)
All