May 23, 2011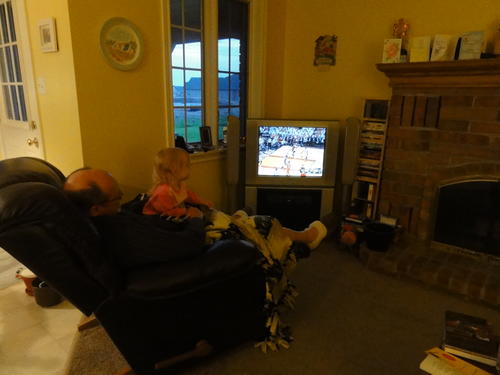 We stayed with my Uncle Carl and Aunt Judy. As soon as we arrived, Judy dragged us off to the neighbourhood park since we had an appropriately aged child and her kids were too big to go to the park by the time it was built. Apparently she was looking for an excuse to check it out. Elizabeth didn't mind in the least. The slides were "too hot" after baking in the sun so we had great fun exchanging "moneys" of sand and dandelions. Then Elizabeth and Judy got very giggly bouncing on the drawbridge. Eventually the spiral slide cooled enough to use. Spiral slides are nerve wracking for moms with small children, especially if said small children want to slide "by self". Probably that's why spiral slides are so appealing!
Elizabeth really took a shine to her Great Uncle Carl, sitting voluntarily on his knee and "helping" barbeque. She liked the little birdhouse in the backyard so much that she wouldn't stop kissing it long enough to talk to Daddy on the phone at bedtime. Predictably, she asked God to bless the birdhouse as part of her evening prayers. (We can always tell what made an impression during the day during prayer time!)
Uncle Carl also introduced Elizabeth to the world of professional sports on TV. Together they watched part of an NBA playoff basketball game, but I'm afraid I've already forgotten which teams were involved. All I know is that Elizabeth decided to cheer for the "wrong" team, because she particularly liked one of the "big mans".
The morning before we left we watched a pair of house sparrows bringing food to their nest just outside the front door.
1
On June 1, 2011 at 04:30 am
Grandma H.
said:
So have any birdies come to live in your blessed birdhouse, Judy? Elizabeth cheering for one of the big mans at her tender age?!
2
On June 1, 2011 at 09:34 pm
Mary @ Parenthood
said:
Actually, birdhouse is a bit misleading - it's a light in the shape of the birdhouse ;)
You might also like
- Home
(0.386026)
- Je d'école
(0.3829)
- A shower and the Great Glebe Garage Sale!
(0.382407)
- Virtual Piano Recital
(0.381857)
- Racoon proofing
(0.380721)
All