June 5, 2011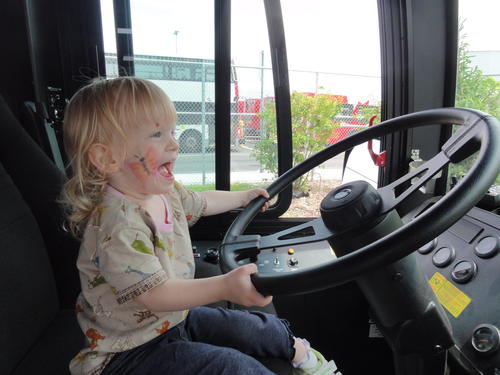 Elizabeth loved the buses at the Robert O. Pickard Centre so much that we decided to head to the new OC Transpo bus garage next.
A quick stop at Loblaws for lunch (eaten on the grounds of the Science and Tech Museum) and then off to get our first glimpse of this newly opened building. The so-called "Garage Mahal" has been pretty controversial, mostly because it was very, very expensive. We were thrilled to get a tour that drove right through the new garage, narrated by the facility manager (?) Naturally he felt the need to let us know that the media had gotten a few facts wrong, namely that the facility cost less than reported and double-decker buses will indeed fit in the building (but they ARE going to replace the doors with taller ones before the double-decker buses arrive).
The maintenance facility was pretty high tech - remote control hydraulic lifts and all kinds of parts and tools. It has its own power plant, a large store of gas and communication infrastructure. Apparently it's part of the city's emergency response plan; in the event of a major disaster emergency vehicles will refuel there.
My favourite part was probably going through the bus wash, because I've always been a sucker for car washes. I don't like paying for them though, so this was Elizabeth's first time. She seemed to like it. We were interested to hear about the assembly line cleaning that takes place while the bus is getting ready to go through the bus wash. The driver gets out the middle door after picking up newspapers while two other guys clean various other parts of the bus and a fourth refuels it. They check whether the wheelchair lift is operating correctly and vacuum the bus.
Elizabeth also enjoyed getting to "drive" the various models of buses on display. Her favourite was probably the 5001 hybrid articulated bus, especially the fancy seat that went WAY up and then down with a swoosh of air. Hopefully that particular seat doesn't require early maintenance as a result of all the stress testing the visitors were putting it through! Brendan and I enjoyed seeing the earlier models, but Elizabeth thought they were "too noisy". I guess the horns on the newer buses require electronics because kids kept honking the horn on the oldest ones!
The double-decker buses were pretty neat and Brendan was surprised to find that the upper deck was quite comfortable. He's 6'7", which is well over the recommended clearance of 5'6". As he put it, he had to stoop, but then again, he has to stoop on any bus! Neither of us would be keen on riding the upper deck on a crowded commuting route but for a longer ride that wasn't too crowded they are quite cute.
Stay tuned for the final review of our epic day of Doors Open Ottawa 2011...
You might also like
- Doors Open: Robert O. Pickard Environmental Centre
(0.44069)
- Doors Open: Mutchmor
(0.434451)
- Doors Open Ottawa: Police Training and OC Transpo
(0.434097)
- Doors Open Ottawa: Lights, Ambulances
(0.42884)
- Museum of Science & Technology
(0.428571)
All