June 6, 2011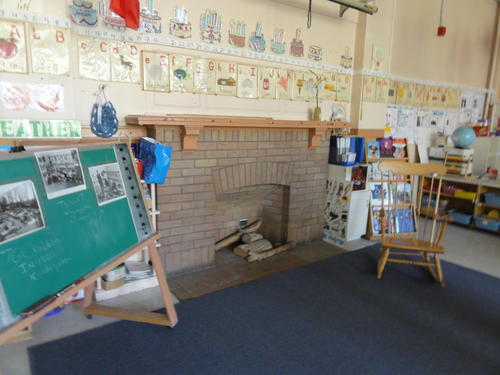 After visiting the Robert O. Pickard Centre and the new OC Transpo bus garage on Saturday, it was nearly three. We contemplated calling it a day, but I really wanted to check out Mutchmor Public School.
It's apparently the oldest elementary school in Ottawa, but there's family history there too. Daddy and uncles Chris and Mark all went to Mutchmor when they were wee young men. More recently, Auntie Janice did her teaching practicum at Mutchmor, and the "stain glass" window she did as part of her medieval studies unit is still hanging in the office window.
Clearly those in charge of preparing Mutchmor for Doors Open Ottawa did their homework, and they had a lot of really interesting information, photos and other historical artifacts on display. "What do you expect from a bunch of teachers?" asked Brendan. Elizabeth was annoyed that we wouldn't let her play with the inkpot in the 1895 room. The school was only open the one day and we were among the last visitors, so we actually got to keep a copy of some of the notes. They are really interesting, so if anyone wants to read the full thing let me know and I'll see what I can do.
My favourite facts:
-The ceilings were built very high in order to maximize air circulation. They hoped more fresh air would keep away then deadly childhood diseases in a pre antibiotic age.
-Mutchmor still has three rooms that date from 1985. The one we saw featured the original slate blackboard.
-The original rooms had pressed tin ceilings for "fire safety"
-Girls and boys had separate entrances, washrooms and playgrounds.
-The kindergarten room had a fireplace, in order to make the children feel more comfortable ("like at home")
I was also very interested in the manual training information. The boys would have done this starting in 1911, while the girls took sewing or cooking classes. If you zoom in on the picture I took of the display, you'll notice that a lot of the rational for manual training was scriptually based. Also, manual training "was not a workshop with a view to commercial value but was for the training and developing of children without regard to the value of the work turned out or time required to make it." The volunteer hanging out in the manual training room had actually done manual training, although he commented that he was 15 or 16 at the time and the bench on display was shorter / intended for younger kids than the one that he personally used.
Mutchmor is remarkably unchanged from about 1911. As one of the volunteers put it, the school has always been just off the list of schools to be renovated. Lacking funds to renovate means the school has experienced a bit of a time freeze. Brendan reports that things look pretty similar to when he attended nearly three decades ago. Actually, I learned afterwards that the kindergarten room still has the same playhouse as it did when Chris attended. Grandpa J complained that the playhouse door was too short and his poor little bindle was bumping his elevated noggin on the door frame. So they cut the door higher. Sadly I did not get a picture of this but I wish I did!
1
On June 13, 2011 at 10:43 pm
Tom
said:
I think you meant that they still have the three rooms from 1895...not 1985 ;)
2
On June 14, 2011 at 00:45 am
Yukiko
said:
I do have that playhouse door's picture. I'll E-mail you. :)


3
On June 14, 2011 at 09:44 pm
Mary @ Parenthood
said:
Whoops - good catch Tom! You are right!
You might also like
- Homeschool wk may 11-15
(0.444223)
- Doors Open: OC Transpo
(0.434451)
- H1N1 Rock Concert
(0.434012)
- Billings Estate
(0.432604)
- Butterfly Adventure
(0.431853)
All