June 10, 2011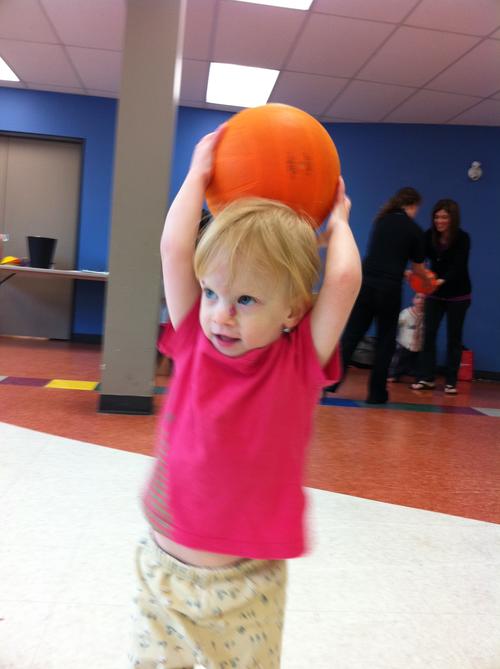 Today was Elizabeth's last Sportball class. I think it's safe to say that she'll be taking it again in the fall, because she really enjoyed it.
I liked it too, because the kids were pretty much all Elizabeth's age. This was unlike swimming classes, where the other kids were mostly little babies. Not that Elizabeth particularly interacted with any of the other kids, but it was nice to be in an age-appropriate class! Plus she was usually so tired afterwards that she napped a long time... That might have had something to do with the 850 m walk to and from Sportball. I did sometimes carry Elizabeth part of the way (especially on the way there when we were running behind schedule!), but mostly she walked. It turns out she's quite capable of walking the entire way there, running around for 45 minutes and then walking home "by self".
I've been pretty busy with meetings at work and couldn't always rearrange my schedule to take her to the class, so Daddy, Auntie Janice and Grandma J all got to experience Sportball too.
There were two instructors at first, and then one of them went on vacation ("vacation"?). Both of them were fabulous, especially Jenna. In fact, Elizabeth spontaneously hugged Jenna at the end of several classes. I was really impressed that the instructors memorized all the names of the kids by the end of the first class, despite having what looked like three pretty full classes back-to-back-to-back.
"But what exactly is Sportball?" I can hear my mother asking. It's a non-competitive sports program for kids sixteen months and up. We participated in a program for two and three year olds. They were introduced to eight different sports - soccer, hockey, golf, football, tennis, volleyball, baseball and basketball. Not that we played a soccer game or anything like that, but we did practice various skills like throwing hotdogs to lions (eg holding a basketball and throwing it through a hula hoop), catching mice (tennis balls), blasting off rocket ships from our mountains (football on a cone) etc. Elizabeth likes to throw balls over her head and through her legs. And she really likes hockey, but mostly because there is a stick that is ideally suited for playing horsey with. It was really fun.
We learned how to do jumping jacks ("stand like a pencil!" "stand like a star!" "pencil!" "star!" "pencil!" "star!") and participated in many, many races. Elizabeth was one of the youngest kids and consequently not the fastest, but she was often one of the first to get moving. At first we wondered how much she was taking in because she didn't seem to follow along with the actions very well. Then we noticed her incorporating Sportball-related activities in her play at home. If you clap three times at the right rhythm, Elizabeth now starts the Sportball chant "Life is Good!" Since I often play clapping games with her, this was rather startling the first time!
By the last class she was stretching along with the rest of them, although she still wouldn't highfive the other adults on the "train". Actually, she wouldn't get into the train formation with the other kids at all without Mommy. Oh well - maybe next time!
You might also like
- Now we are six
(0.451181)
- Healthy Girl
(0.446824)
- Doors Open: Robert O. Pickard Environmental Centre
(0.446177)
- Je d'école
(0.446037)
- Dr Lynn is leaving :(
(0.444618)
All