June 21, 2011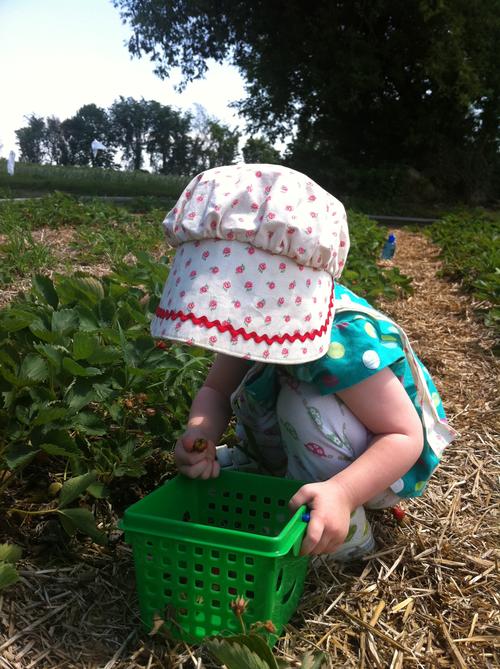 This is Elizabeth's third year picking strawberries (Year 1, Year 2) No carseat or stroller this year! Elizabeth was interested in helping for about a minute, and then mainly wanted to sprinkle her water bottle on Mommy. Since it was roasting hot I didn't let her waste the water. Later I wished I had a bit, because the small amount we had left got so hot in the sun that it was uncomfortable to drink!
She really preferred picking the green strawberries, I think because they had less of a tendency to squoosh in her hands. Sadly she doesn't actually eat strawberries (or any berries) so my normal approach of getting her to pick the ones she would like to eat didn't work. After a while she invented a game where she was feeding the berries straw and offering them drinks.
I tried to get her to sit in the shade or at least go back and forth between me and Grandma J, but no dice. So I ended up having to pick a lot of straw out of my basket. Luckily Grandma J was there too or we would have ended up with a lot fewer berries. Elizabeth was quite proud of the berries "she" picked though - didn't want me to use them for jam or eating, just wanted to admire the full basket in the fridge!
1
On June 29, 2011 at 03:26 pm
Grandma H.
said:
The perfect hat to pick berries!
You might also like
- Decision making study
(0.381242)
- Three under three
(0.379866)
- Strangers
(0.37834)
- Fall summer
(0.376485)
- Butterfly Show
(0.376224)
All