April 10, 2009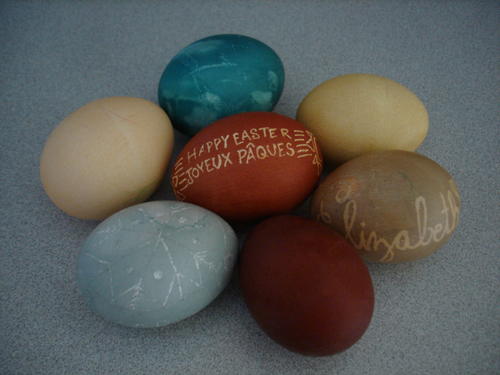 We made it to church for the first time on Good Friday, and only a few minutes late. Since the service was half an hour earlier than usual, we've decided to count it as being "on time".
Elizabeth cried all the way to church (she's not a big fan of the car seat), so we hesitated a bit at the back trying to decide where to sit. We usually like to sit right up front, but decided it might be prudent to sit somewhere more condusive to a quick getaway.
My fears were unfounded though as Elizabeth was a model baby. She fell asleep shortly after we walked in and slept through the entire service.
Later in the day we decorated eggs for Easter with Erika, while Elizabeth mostly slept. We colour our eggs with natural dyes - tumeric for yellow, cabbage for blue and yellow onion skins for red / brown. Erika had fun colouring on some eggs with a wax crayon, while Yukiko and Janice drew intricate patterns using our Ukrainian egg kit supplies. I had a bit of trouble this year with the yellow dye coming out rather muddy, so we didn't get a successful green.
Somehow we didn't think to take pictures of the process - I was too busy trying not to dye our countertop yellow for the fourth year in a row... So I dyed it blue instead! We'll have to see whether cabbage dye is easier to get off than tumeric.
You might also like
- Good Friday
(0.38964)
- Good Friday
(0.383891)
- Happy Easter!
(0.382011)
- Do you ever feel like a gerbil?
(0.37644)
- Strawberry Picking!
(0.375)
All