June 25, 2011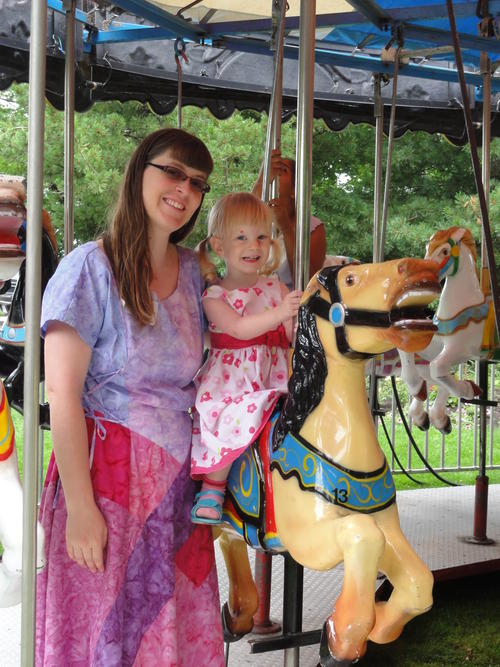 We were lucky enough to be invited to Stephen Harper's fabulous garden party again this year. I guess the PMO had other priorities this week because they haven't sent us our official photo of the prime minister hugging me and Brendan yet. Majority Harper apparently is friendlier than minority Harper.
The clown made up a song about meeting Elizabeth as we waited to get into the grounds. He pretended to think I was her sister. I found it more creepy than flattering. Elizabeth wasn't a big fan either.
Although she duly signed the guest book "by self", Elizabeth wouldn't make eye contact once we got up close and personal. "A little shy today?" Harper asked. I wished him good luck with the mail strike and he assured me "don't worry, we'll get it". A few hours later the back-to-work legislation did indeed pass. Was it something I said?
Elizabeth enjoyed a mini train ride with Mommy so much that she didn't want to get off for lunch. After lunch we took her on her first merry-go-round. It didn't go well at first. She had very definite ideas about which horse she wanted to ride, which was problematic because the staff needed us to move to a different horse in order to balance it properly (too many adults holding tinies). Elizabeth was having none of this so we had to get off. She liked that even less. The next time it stopped, the sympathetic staff balanced the whole merry-go-round around Elizabeth and "her" horse. We went round and round and round and round. When the ride came to an end, horse got an unprompted kiss goodbye.
Then we went to the bouncy castle. Elizabeth went in by herself, bounced around by herself and tried to get up to go down the slide. She was too little. "I need help, Mommy-dear", she said plaintively after her fourth or fifth attempt, so I corralled an older kid into giving her a hand. Elizabeth was so determined to go down the slide that she went happily with this perfect stranger. (Eek! My baby is growing up!)
There was free face painting and Elizabeth was keen so instead of more train or carousel rides we waited in line. And waited. And waited. And waited. I'm not sure the end result was worth the forty-five minute wait but Elizabeth was very happy. I was proud of how patiently she waited!
1
On July 4, 2011 at 05:07 pm
Grandpa H
said:
Elizabeth, you are so cute with a flower on your face! Just like your mommy and daddy, I'm sure you'll eventually learn the wisdom of making friends with the nice Conservative prime minister ;)
2
On July 5, 2011 at 11:58 am
Janice
said:
You all look very spiffy all dressed up!



The waiting may have been a pain but I'm impressed by how well it matches the dress. The two pigtails are completely adorable.
You might also like
- Dr Lynn is leaving :(
(0.424635)
- Calypso
(0.424045)
- Family Day
(0.423783)
- Je d'école
(0.423178)
- Skating
(0.417757)
All