July 1, 2011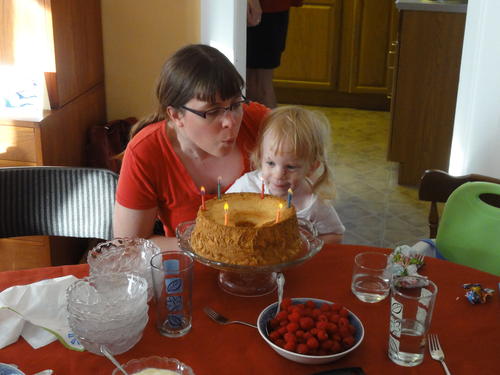 Elizabeth insisted on feeding me breakfast. It took three times as long and I ended up with milk dribbled all down my shirt, but we both enjoyed ourselves.
We had a slight mishap with the birthday cakes the day before. I wanted to try an angel food cake "by self". Then the folding of the flour was taking too long and in a moment of insanity I decided power tools were the obvious solution. I turned on the mixer and it folded that flour into the batter in a matter of seconds. Then the egg whites deflated and I remembered why you are supposed to do that part the old-fashioned way. Whoops!
It was getting late, so Auntie Janice offered to make the mini-cupcakes in my new Elizabeth-sized cupcake pan. The cupcakes used about 1/8th of the batter, so Janice got to make chocolate cakes too. I may have neglected to tell her that mini-cupcakes bake faster than cakes, and an 8"x8" round cooks differently than a 10"x13" pan. So we made a new batch in the morning while trading cooking disaster stories with Kevin and ended up with mounds of cake, some crispier than others. I was very surprised later in the day when Janice thought of a way to use up some of that extra cake. I do have to admit: singing happy birthday twice and blowing out candles twice in quick succession IS one way of avoiding running out of cake to put the candles in now that I've hit the advanced age of six!
Once we'd made enough cupcakes and changed into appropriate Canada Day attire, friend Mike generously took our family sailing on his boat Kokopelli for the Canada Fun race. The race committee did not make anyone go swimming this year, but one of the other boats did throw candy and buckets of water at us. Another one sprayed Erika with their hose. She was not impressed. We didn't win, but only because the powers that be didn't adjust our PHRF handicap rating to take into account the high number of kids under the age of 6 on our boat... Maria had a lovely nap on the boat. Elizabeth did no such thing. No one fell overboard. After the race, Mike presented me with a Kokopelli t-shirt! Lovely weather, though we could have used a bit more wind at times.
After sailing we headed home for BBQ with Uncle Dave, Auntie Karen, Karen's friend Andrea, Auntie Janice, Kevin, Grandpa and Grandma J, Uncle Chris, Auntie Yukiko, Erika, Maria, and friend Sarah (all the way from BC!)
I felt very loved. Uncle Chris, Auntie Yukiko, Erika and Maria headed to bed and Grandma and Grandpa were heading downtown for the fireworks. After chilling upstairs in the A/C for a while, the rest of us went to watch the fireworks at Uncle Dave and Auntie Karen's apartment for the last time (Did you hear? They bought a house!!!) The plan was that we'd put Elizabeth to bed and watch the fireworks from the balcony, but Elizabeth was too excited to sleep. She loved the fireworks, despite booming (deemed okay in the context of "pitty lights in the sky") She was finally home and asleep by 11pm!
Needless to say, she went to bed at 5:30pm the next night, but it still took several days to get back on schedule.
You might also like
- Double Digits
(0.443038)
- Halloween
(0.442649)
- Karate Tournament, Birthday and ER Part 2
(0.441094)
- Race Weekend (2km, 5km)
(0.436349)
- Social Distancing: Day 20
(0.435171)
All