June 30, 2011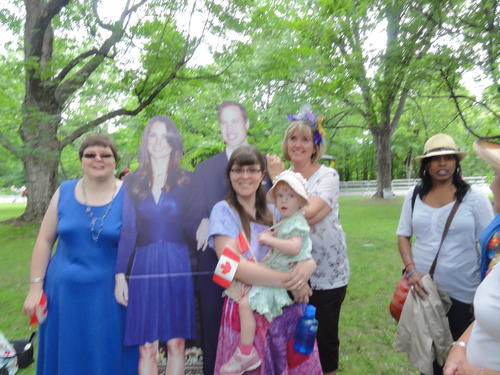 You may have heard that the Duke and Duchess of Cambridge aka "the world's most famous couple" Will and Kate visited me for my birthday.
I'm not anti-monarchy, but not exactly a royal watcher either. Our household was asked recently: "if you could have dinner with any celebrity, who would you pick?" I was interested to read that most recent grads would pick Will and Kate (and guess who Auntie Janice picked!) Tenant Jesse was more interested in Christopher Plummer and Daddy couldn't think of anyone because he thinks "Steve Jobs is not involved enough at Apple anymore and Bill Gates is a has-been".
I wasn't really sure why I was going. The last time I did anything similar was the time I went to a Star Trek convention, paid $20 to get in and then totally embarrassed my friend Jess by asking "who is William Shatner" during one of those quiet moments you only get if you say something silly.
On the other hand, when the Governor-General sent me an official invitation to welcome their royal highnesses to Canada via twitter, how could I refuse? Besides, it was an educational opportunity for Elizabeth and OC Transpo was offering free bus rides. Elizabeth LOVES riding on the bus.
So we took a free shuttle down to Rideau Hall and met up with Grandma J. There weren't as many people as I expected when we arrived. The staff were giving out free flags to wave and giving conflicting information about where the Duke and Duchess were expected to get out of the car. We opted to stand right near the front to wave at the car, because it was completely empty. So we had a fantastic view of the car. Unfortunately it had tinted windows so basically that's all we saw. Hilariously, some of the people behind us were convinced that the royal couple were still coming, until the crowd kind of surged towards Rideau Hall. A bit of a scary moment actually, leaving me wondering whether bringing Elizabeth was wise. We headed towards Rideau Hall too with Elizabeth on my shoulders and got pretty close. Not close enough to actually see anything, but lots of people right in front of me sure did and one even shook hands. Elizabeth says she saw the "special mans" and picked him out accurately on TV later. She did not see Kate.
Then we got to hear the various speeches. Elizabeth did NOT like the gun salute interspersed with pipe band, telling me "I not like the booming Mommy-dear" and "I want a different song" over and over again. We thought the security guard who climbed out the window onto the balcony had the best view!
I thought Stephen Harper's speech was -awkward- basically along the lines of "so sorry to have stood you up at your wedding, but I had more important things to do". I was impressed with Prince William's French.
Clearly we were not nearly as invested in the whole process as some. A scary number of people had special hats, t-shirts, signs, presents and drove hours and hours to get to Ottawa. They were not as invested in good behaviour though, trampling through the flower beds despite pleas from the Governor General's fantastic staff. Although I didn't really get to see Will or Kate, I enjoyed the craziness of hanging out with 5,000 keeners who thought nothing of climbing trees a la Zacchaeus to get a better view.
On the way out we happened across the cardboard cutout of William and Kate that's been "touring" Ottawa in advance of the royal visit. I figured this was the closest we'd get to a "picture" so got into the then short line. Tons of people had the same idea and started butting in line. After waiting twice as long as we should have, one of the ladies who cut in front of us actually had the chutzpah to cut back in and get her photo a second time. That's when I lost patience. I told the woman next to me who was encouraging her young kid to "just scoot in there" that she should stand in line like everyone else and marched up to the cardboard cutout with Elizabeth. The result is a bit blurry and has random people in it but I like it because it sums up the afternoon quite well ;)
1
On July 8, 2011 at 04:01 pm
Rachel
said:
Sounds like a fun hubbub! Except for the line-cutters, that is. That kind of thing drives me crazy!
You might also like
- Mary and Andrea visit
(0.463852)
- Great Grandma Funeral
(0.459119)
- Crazy Pickles
(0.454545)
- H1N1 Rock Concert
(0.450704)
- War museum
(0.450598)
All