July 14, 2011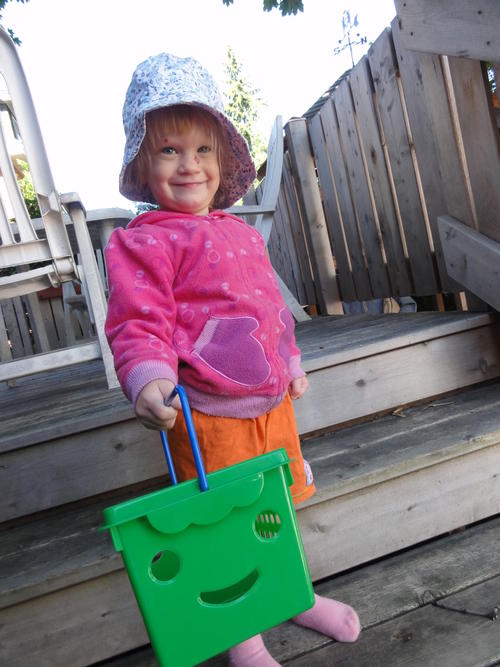 I told Elizabeth last night that we would go berry picking with Grandma J today.
"I'll go get the baskets", she excitedly proclaimed this morning. Daddy thinks she's inherited a certain maternal family tendency to CHARGE... The raspberries were super plentiful and while Elizabeth doesn't eat raspberries anymore than she eats strawberries, I had a much easier time getting her to pick ripe berries this time. I told her ripe raspberries were red and came off the bush easily, and the second part seemed to be the extra information she needed.
Or maybe her improved picking skill was because Rideau Pine's very friendly lab came to check whether she was doing it right! Elizabeth was a little nervous around the dog until it dropped a slobbery ball in front of her and demanded a game. "Throw the ball, Mummy-dear", she insisted. I did but yech!
I have to mention that any pictures of me (or just raspberries) were taken by Elizabeth. She asked for "her turn" very nicely and was so proud to be taking pictures. Her technique is to point at Mommy and then repeatedly press the shutter button. 22 pictures later I managed to get the camera back. Then she filled her basket with her sweater and declared that her basket was full. Nice try but Mommy had to fill her basket too!
After a while Elizabeth decided she was "weelly tired". So I made her a little bed of sweaters and she had a restless "nap", interrupted by many requests for stories and telling me about all the things she could hear (birds, airplanes, a train...) Then she heard a tractor and had to leap up to wave hello to the farmer. There were two tractors, driving back and forth and forth and back and "chasing the doggie Mommy-dear", so the nap changed into an impersonation of a jack-in-the-box.
1
On July 19, 2011 at 05:19 pm
Rachel
said:
FUN! We need to go berry picking - Ali would love it!
You might also like:
-
About the boy
-
Marathon swim
-
End of an Era
-
Road Trip!
-
Four