July 22, 2011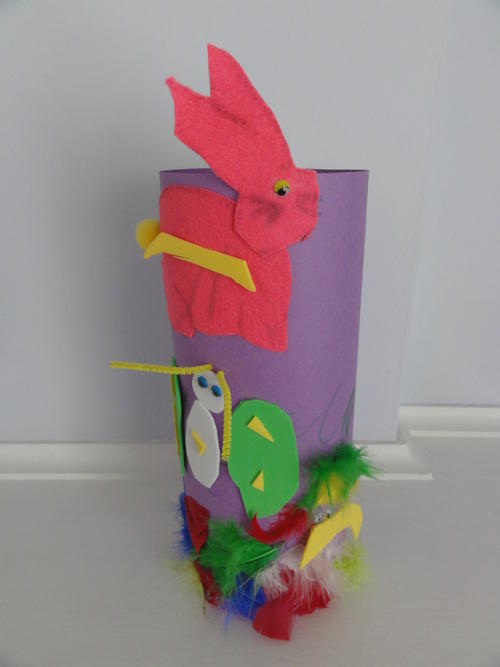 I asked Elizabeth if she wanted to go to the farm or see pretty pictures for her afternoon activity. She chose the pictures so we headed off to the National Art Gallery where Elizabeth made an Emily Carr inspired totem pole with the Artissimo program. She would have been happy to cut feathers into little pieces for hours, though she did enjoy coming up with ideas for new animals to make.
Then we walked through the galleries looking for pictures of babies. We apparently have quite different taste in art at the moment. We practiced some quiet "sitting time" looking down on the various courtyards. She was fascinated by the pool "full of moneys" and insisted that we go check it out close up. This was no easy feat since I kept getting lost. Eventually we asked one of the guides who kindly took us and a short parade of other visitors all looking for something to our destinations. That's when I discovered that Elizabeth was expecting me to magically produce her swimsuit so she could go for a paddle.
1
On July 28, 2011 at 04:58 pm
Grandma H.
said:
You have to admit that pool is very fascinating!

Love the art.
You might also like
- The birds and the bees
(0.374696)
- Mooney's Bay
(0.366743)
- Mommy dear, I NEED to see the cows
(0.365169)
- Sheep Shearing
(0.365101)
- Dovercourt
(0.360428)
All