July 31, 2011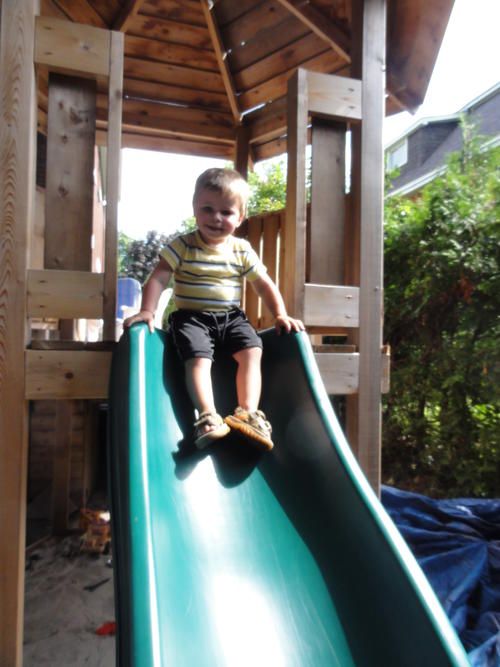 We often have several flavours of ice cream lurking in our freezer. There's a rumour that we might have had eight tubs of different kinds back in January. Clearly I've taken to heart my Mom's notion that humans have a special ice cream stomach.
So here's my version of how to host an ice-cream potluck in four easy parts.
1) Provide cones, bowls and toppings. We had waffle cones, waffle bowls, gluten free cones and "ordinary cones", bananas, chocolate syrup, strawberry syrup, maraschino cherries, marshmallow goo, skor bits, butterscotch chips, chocolate chips, m&m's and whipping cream. When they saw all the bowls out, someone commented that it was the summer version of our annual gingerbread building party.
2) Ask your guests to bring their favourite ice cream flavour. Mango, black cherry, mayan chocolate, "chunky monkey" banana, Death by chocolate, Moose Tracks, mint, sugar maple, jamocan almond fudge, and really too many others to list out. We even had a selection of dairy and sugar free options.
3) Indulge.
4) Get your guests to take ice cream home with them! It's more fun if you specify that they don't have to take the ice cream that they arrived with.
Step four is pretty important. Quite a few of our earlier guests escaped without an ice cream doggy bag. Not that we really mind the leftovers.
1
On August 7, 2011 at 05:40 pm
Grandpa H
said:
Naturally I assumed an ice-cream potluck would be mostly for kids - apparently you have lots of big-kid friends! :)


You might also like
- Ice Cream Party!
(0.357243)
- The Log Farm
(0.329)
- Toothless
(0.325103)
- Chateau Laurier
(0.322756)
- Cottage Days: Party time
(0.32243)
All