August 15, 2011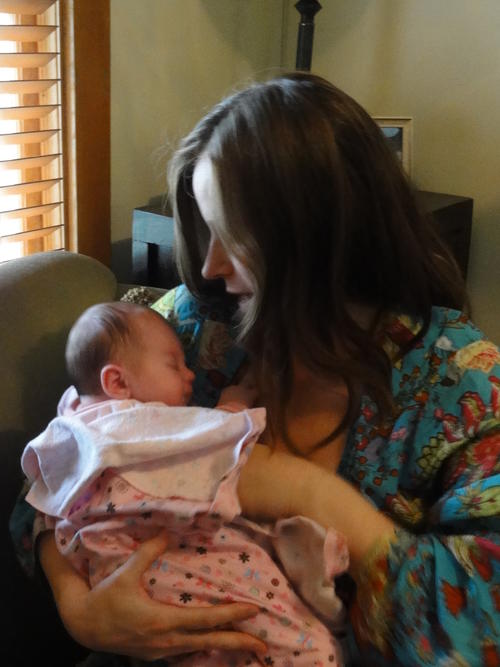 Cottage to Wellesley: 4.5 hours
Wellesley to Crosshill to Wellesley to At the Crossroads restaurant: 1 hour
At the Crossroads to Etobicoke: 1.5 hours
Etobicoke to Toronto: 0.5 hours
Toronto to Boston Pizza (Bracebridge): 3 hours
Boston Pizza to Huntsville: 0.5 hours
Huntsville to the cottage: 0.5 hours
If you are counting (and believe me we did), that's 11.5 of the past 38 hours spent driving. Keep in mind that we prefer to take three or four days for a trip from Ottawa to Toronto...
Elizabeth probably travels better than her parents now, although all the schedule and diet changes combined with prolonged sitting wreaked havok with her digestive system. At first we thought she was regressing on the toilet training front! Poor baby told me matter-of-factly that maybe she needed diapers again, but more water and lots of fruit and vegetables helped.
We stayed overnight with Great Aunt Muriel who has a gorgeous new deck in lieu of leaky hot tub. We checked out the local playground with Muriel, where Elizabeth found a "little house" in the form of a geodesic play dome and TWO slides. There were swings too but Elizabeth hasn't actually wanted to swing for a long time for some reason.
Elizabeth was super excited to meet baby Claire (Claire's mommy and grandma were there too). At the time of meeting she hardly dared lift her eyes (ack! strangers!). She practically dragged Mommy and Daddy out the door, but when we got to the car she wanted to go back inside to "ook at tousin Care". Claire's not related but Elizabeth seems to think that all babies are cousins. Mommy and Daddy thought that baby Claire was adorable, and clearly parenthood suits Tom and Lorraine.
Then back to the cottage for our regularly scheduled beach...
1
On August 22, 2011 at 04:58 pm
Grandma H.
said:
Ooh, that lemon looks sour!
You might also like
- Road Trip!
(0.385303)
- Je d'école
(0.371665)
- Farm Camp
(0.371134)
- London
(0.370983)
- 52 cm of Snow
(0.3706)
All