August 21, 2011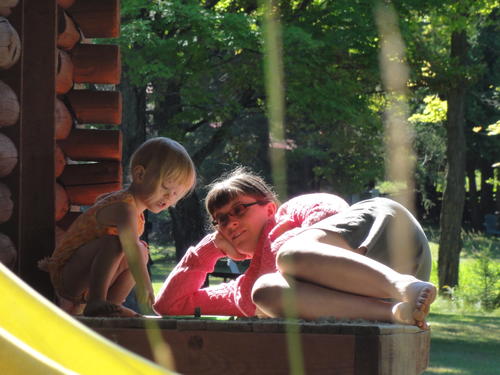 Elizabeth had two main questions for us during the second cottage week: "Is it raining yet? I want to wear my boots" and "I want to wear my orange swimsuit". Mommy found the water very chilly the second week (and I think Elizabeth did too, since she didn't get all the way wet most of the time). But apparently that was just us because both Daddy and Grandpa went swimming - more than once - and agreed that the water was nice! They are notorious for only swimming when the water is very warm.
Someone made the word "Bondi" out of sand balls down by the beach, so a boy playing on the beach with us decided he needed to make some words too. I think he said there were 74 buckets for Bondi (but you can count). Later he added Village. And still later pre-pended "We Love". Elizabeth wanted to stomp all over his creation but although she destroyed part of the B, the boy was gracious about it. "I don't mind if the little girl is having fun", he said. His mom was impressed - I gather his brother had done the same thing and gotten yelled at. The boy told us that it was "all about intent".
Nonetheless we got Elizabeth to stamp on her own castles instead. At suppertime I had a nice meal of sand soup with sand rice. For "Yert" she made me a cake. "It's the slide's birthday", she declared. Her menu is rather limited - either we eat a lot of soup and rice or she wishes we did! Then she decided she needed a little house to sleep in, so Daddy built her one.
You might also like
- Marathon swim
(0.402235)
- Virtual Piano Recital
(0.400701)
- River Oak
(0.398252)
- Elizabeth's 9th birthday party
(0.395616)
- Cottage Days: Support boat
(0.392683)
All