August 23, 2011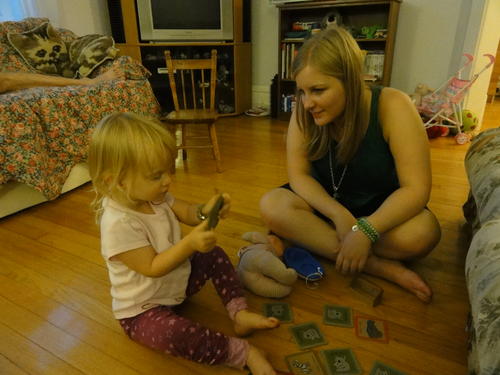 With the end of the summer in sight (you can always tell by the appearance of snowblowers at major stores) we decided that we needed to get another visit with Godmother Rachel in before she went back to school for the year. Elizabeth was so excited that she could hardly sleep. "I'm going to play ball and dance with Waachel!" We had a lovely time and did indeed dance and play ball. So much so that we were all a bit shocked by how Elizabeth had taken to Rachel (not that we are complaining...). Last time Rachel was over Elizabeth barely made eye contact. This time they were wandering around outside in the backyard doing the tour of the "wittle housie" while Mommy and Daddy got food ready inside.
Rachel brought Elizabeth the cutest little book and game. It is all about mommy and baby animals. The game is basically a set of memory cards (heavy duty for little fingers) but instead of a pair of identical animals it uses a mommy and a baby of the same animal to make each pair. Brilliant. Elizabeth took her new card game up to her room with her when we finally carted her off to bed.
1
On August 31, 2011 at 04:04 pm
Rachel
said:
That's so great! Isn't it awesome to see your kids loving other people?? It's such a neat thing to watch!
You might also like
- 52 cm of Snow
(0.396552)
- Orange swimsuit please
(0.383543)
- Rain
(0.378453)
- Sheep Shearing
(0.378303)
- Daddy and the buck bucks
(0.376563)
All