September 21, 2011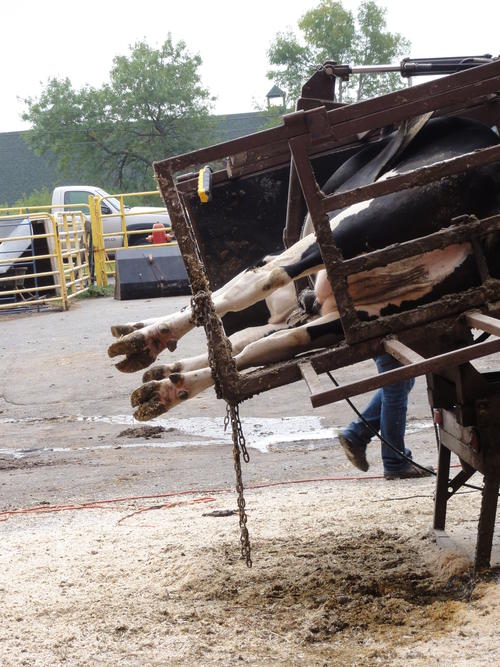 "Tmrw only - see a rollover cattle crush in action as this might machine rolls cows for hoof trims", said my twitter feed.
"Awesome!" said I, after processing the various mental images. Elizabeth was game to go see the professional cow tippers at work so we headed off to the Agriculture Museum at the duly appointed time.
"Ook Momma", said Elizabeth. "Dat cow is holding still and the mans is kipping her nails, like I hold still when Daddy kip MY nails."
The cows didn't seem terribly excited about being tipped sideways. Most of them mooed rather resignedly during the entire process. I was struck by how physically demanding the day must have been for the herdsmen (and woman!). The cows did not want to go into the yard near the machine, let along get into the tipping cage. The herdsmen basically had to physically wrestle with the cows to get them in!
The first cow we saw got a pink bandage on one of her hind feet. Elizabeth was most impressed by this detail, repeating it several times when later regaling Daddy with tales of her adventures.
You might also like
- The birds and the bees
(0.363636)
- Preparing for Gingerbread
(0.348522)
- Plasma Car
(0.34594)
- Sheep Shearing
(0.343958)
- Sheep Shearing Fest
(0.343672)
All