September 19, 2011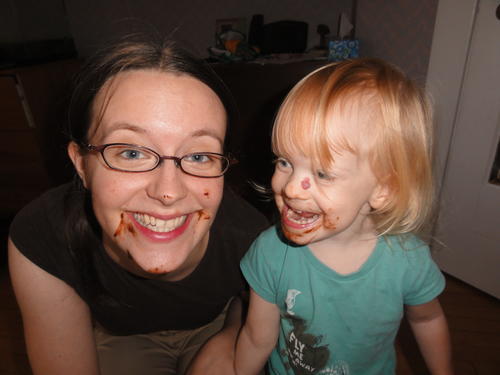 Once upon a time I found a recipe for gluten free "Girl Scout" thin mint cookies. The recipe was accompanied by pictures and it looked good. Really good. So I checked my cupboard and I actually had mint flavouring in the cupboard!
Clearly this was a sign. The recipe says it makes 25-30 cookies. When I tried it, the yield was about double that.
INGREDIENTS
2/3 cup brown rice flour
2/3 cup sweet rice flour
4 tbs cocoa powder
2 tbs corn starch
1 tsp baking powder

1/2 cup butter (1 stick), room temperature
1 cup + 1/4 sugar
1 tsp vanilla extract
1 tsp mint extract (or peppermint oil)
1 egg

1/4 cup butter
1.5 cups of icing sugar
0.5 tsp vanilla
1 tsp mint extract (or peppermint oil)

1 cup fine quality semi-sweet chocolate chips
2 T butter
a generous splash of cream

Combine dry ingredients.
Cream butter until pale and creamy and beat in the sugar until smooth. Add egg, vanilla and peppermint oil. Beat until smooth. Fold in dry ingredients.
Roll dough in wax paper into a log shape and chill until firm (at least an hour). I made one batch the same day, and the second six months later, so the dough keeps extremely well.
Chop into 1/4" rounds and bake 12-15 minutes at 350 degrees.
Let cool completely.
Stir peppermint into buttercream icing and spread on top of each cookie.
Add butter and cream to the chocolate chips and microwave until just melted. Stir together (the cream helps make it runny). Coat cookie in chocolate. Put on wax paper and refrigerate until ready to eat.
Auntie Janice used more than one recipe of the chocolate to coat a half recipe.
You might also like
- Good Friday
(0.365648)
- Brendan's birthday celebration
(0.357338)
- GF Beavertails
(0.356913)
- Dovercourt
(0.334612)
- Playdough
(0.334545)
All