September 23, 2011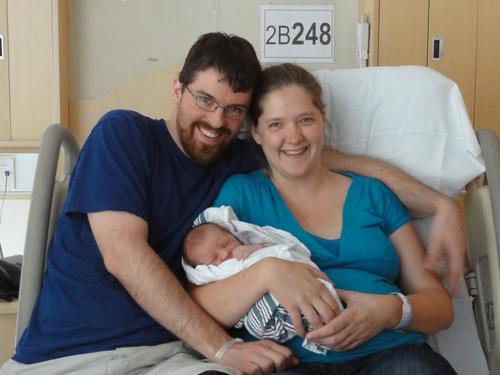 Alexander Timothy was born this morning at 1:47am weighing 7lbs and 4 ounces (3300 g), with the help of a vaccuum extractor. Due September 11th, he may have been fashionably late, but once the eviction process started he was in a hurry to be born. He may be a whole pound more than Elizabeth was but he is SO TINY!!!
He has huge feet (9cm), loves to be swaddled and sucks his fingers with vim and vigour. So far he seems pretty laid back. I heard him hollering on the phone in the hospital but in person he has yet to really voice his displeasure. He makes hilarious grunting noises when he sleeps. Poor baby already has Mom's cold. I didn't know that was even possible, but I don't think it's very fair!
Dave and Karen are both very tired but over the moon with their new addition. Elizabeth has been eager to meet her new cousin, praying every night for weeks and weeks that he will come out soon "and give me a BIG hug. And let me play with his toys." But now that Alexander is here it's about as much as she can do to look at him. Babies are so scary! Or is it that toddlers are silly? :)
1
On September 28, 2011 at 05:04 pm
Rachel
said:
Oh congrats!! He's adorable!! Isn't it weird how tiny they seem after yours grows up? So fun!!
You might also like
- Matthew at 9 months
(0.348101)
- Number 3
(0.344318)
- Terrible Horrible
(0.336218)
- First Dentist Appointment
(0.33526)
- Elizabeth is 6.5
(0.334688)
All