April 21, 2009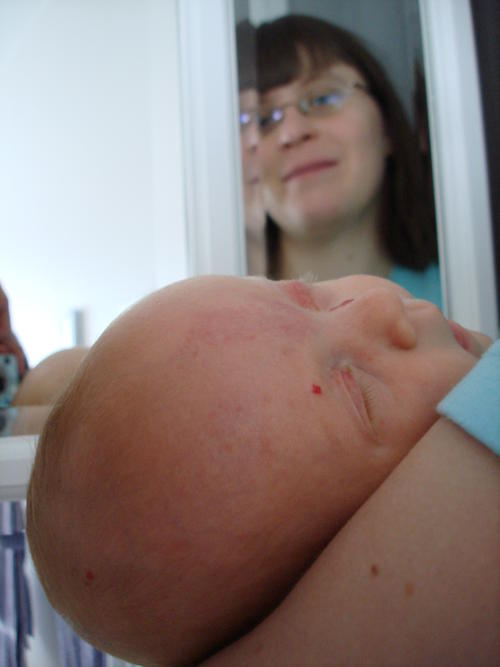 Today's pictures were actually accumulated over the last few days, but we haven't had the energy to sort through and post them before now. In theory Elizabeth is supposed to be declining from "peak fussiness" since she's seven weeks old, but the last few days have had her parents checking to see whether she has any curls in the middle of her forehead which might explain the various screaming fits.
Luckily various aunts, uncles and cousins came over to give us a little break. Erika explained to me that it was just Elizabeth's "cranky, cranky time". No kidding! There's a joke about a Jekyll and Hyde baby somewhere here but I'm too tired to find it.
Today was much better - she slept 4 hours in a row (twice!) during the night and settled down for a big nap in the afternoon. It's amazing how much difference that makes to a baby's mood...
We even braved the driving rain to visit the Ottawa Public Library for "Babytime". Elizabeth was asleep when we first arrived, so with the help of a friendly librarian I selected some age-appropriate board books in both official languages. They recommend you choose books in black & white at her age, so we have a book with farm animals in silhouette, a book of panda photos, a book about busy babies yawning and splashing, and a book about an ant and a dinosaur who hatch at the same time and think they are each other's mommies. The last two aren't entirely black and white so are "a little advanced". Given that she hasn't quite figured out that she's supposed to be looking at the book, I'd say they are all a little advanced but they keep Elizabeth's parents out of trouble.
When Elizabeth woke up we joined the dozen plus other moms and their babies. Babytime is advertised as a way to promote early literacy, but there was nary a book in sight. Well okay - there were lots of books on the shelves... I'd had visions of someone reading board books but it seemed to consist entirely of singing popular baby songs in a circle with other moms who are jiggling their babies in time to the music, while the librarian waves various stuffed animals around at appropriate moments ("Old Macdonald had a sheep"...) It was surprisingly fun and utterly ridiculous. I'm totally going back. If I have enough popular demand, maybe I'll even take a video of Elizabeth doing the Hokey Pokey.
1
On April 22, 2009 at 02:21 am
Grandpa
said:
Sounds very postmodern - a reading time with no books... :) We definitely want to see that video!
2
On April 22, 2009 at 08:37 am
Auntie Janice
said:
How do I vote for popular demand? I'll even come and take the video if necessary :)
You might also like
- Pumpkin picking
(0.418703)
- London
(0.41681)
- Canoe Camping
(0.41491)
- London
(0.412261)
- Homeschool wk apr 14-17
(0.406891)
All