October 2, 2011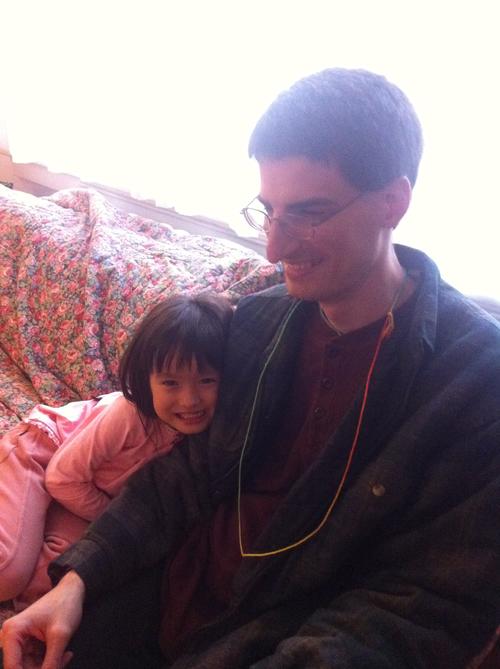 We've been unusually busy this fall with visitors coming and going. When dinner for twelve is considered "scaling back", you know that our sense of a big family dinner is a little warped. In fact, we realized that we haven't had fewer than twelve for dinner at least one night a weekend for the last month, and there are still a couple of weeks of twelve plus dinner plans to go. I suspect we'll take a little break from large gatherings after Thanksgiving, but it's so much fun to get together!
Erika made her "Uncle Power tools" a special necklace, which he dutifully wore.
Tenant Jesse, Great-Aunt Mary, Grandma H, Auntie Janice, Janice's boy Kevin, Uncle Chris, Auntie Yukiko, cousins Erika and Maria all joined Elizabeth and I to help Brendan properly demolish his birthday lasagna. The flourless chocolate cake was also properly appreciated, though Jesse was careful to request a piece that "wasn't covered in wax and baby spit". That's because Elizabeth insisted on "helping" blow out Daddy's candles...
You might also like
- Erika is FIVE
(0.377049)
- Good Friday 2015
(0.37526)
- Just begun
(0.37468)
- Happy Birthday Uncle Chris!
(0.368831)
- Happy Canada Day
(0.364946)
All