April 22, 2009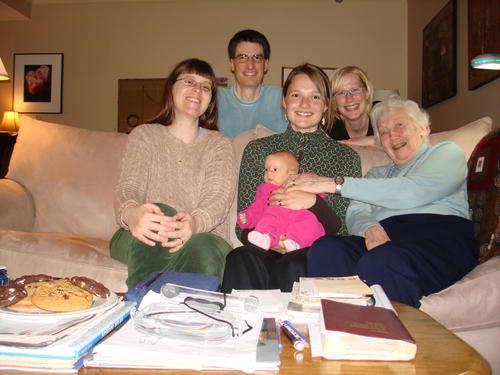 Elizabeth and I had a big expedition to the grocery store today. She enjoyed the stroller walk over to the Loeb (our closest grocery store), but by the time we got to the meat section she was just howling. I haven't quite figured out how to manage all the extra baby-related paraphenalia in addition to a grocery cart, so I opted to push the stroller with one arm while piling groceries into my other arm. At some point I will try the sling, but this particular store is so teeny tiny that it didn't seem worth it, especally since our mission was limited to getting milk and eggs.
Heads turned as I dashed towards the exit, while two dozen eggs teetered precariously atop of the bread. As my wailing infant increased her volume, the staff opened a new checkout lane for us and other customers graciously stood aside. Of course, once we were back outside she immediately stopped crying and went to sleep.
In the evening we braved house group for the third time. Elizabeth continues to be a head turner at the Lord Landsdowne Apparently they don't see a lot of babies there or something because everyone seems to be quite surprised to see Elizabeth (and subsequently spend a couple of minutes oogling instead of whatever they had been planning on doing). The good news is that Elizabeth doesn't seem to mind all of the attention and generally behaves herself. Elizabeth has even started to contribute to housegroup discussion (other than in the form of a distraction). When asked how Jesus must have felt about Judas' impending betrayal she promptly burped.
You might also like:
-
Matthew's first skating class
-
The birds and the bees
-
23 months
-
-
The Big Clock