October 15, 2011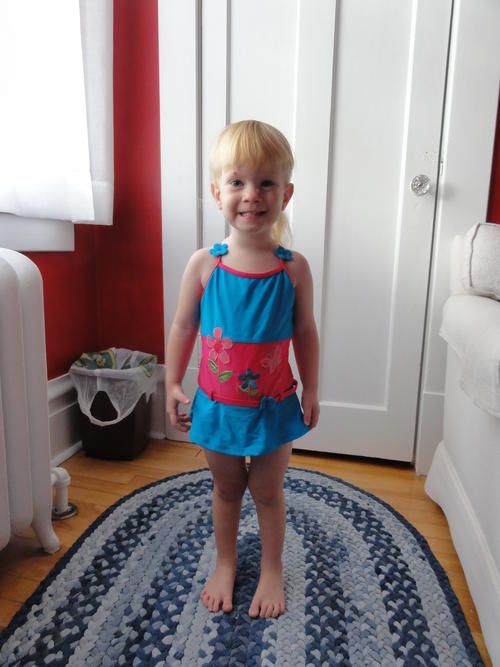 Did I mention that Elizabeth is taking swimming lessons again this fall? We took them once before at Brewer and the first lesson was great. Then the regular instructor returned and the rest of the class was just okay.
It didn't help that they kept dropping the temperature of the pool significantly for various high level swim meets (the temperature went down so much that one week they posted warning notices outside the pool. Chilly doesn't begin to describe it!)
Elizabeth enjoyed her class, but it was basically circle time in the water with a group leader who was clearly not hired for her singing ability. There was only one other child Elizabeth's age, who was moving to Texas three days after the end of the last class. The rest of the class were babies aged 6-12 months. In fact, many of the swimming programs at the City of Ottawa register by age, but they often group 6 months to 3 years of age in the same class. Not that they explicitly let you know at time of registration! I gather that most pools wouldn't have enough kids to run a program otherwise, since most parents do the swimming lesson thing with their babies when they are on parental leave.
Since I am a strong swimmer and quite capable of doing my own (free!) circle time in the water, we opted to skip swimming lessons for a season. But I found it difficult to get Elizabeth to the pool without the regularly scheduled incentive in the form of lessons that we paid good money for, so when I saw that St Laurent was offering lessons for Elizabeth's age group AND that the babies were scheduled for a completely different time we decided to give it another try.
I'm glad we did. The City of Ottawa has just switched from lessons based on the Lifesaving society curriculum to the Red Cross curriculum, which makes Elizabeth a "sea turtle". I'm not sure if it's the change of pool, instructor, curriculum or a combination of all three, but I am very impressed with the lessons so far.
You might also like
- History Museum
(0.419271)
- Dovercourt
(0.416667)
- Sportball
(0.41448)
- Watson's Mill
(0.412434)
- River Oak
(0.411306)
All