October 13, 2011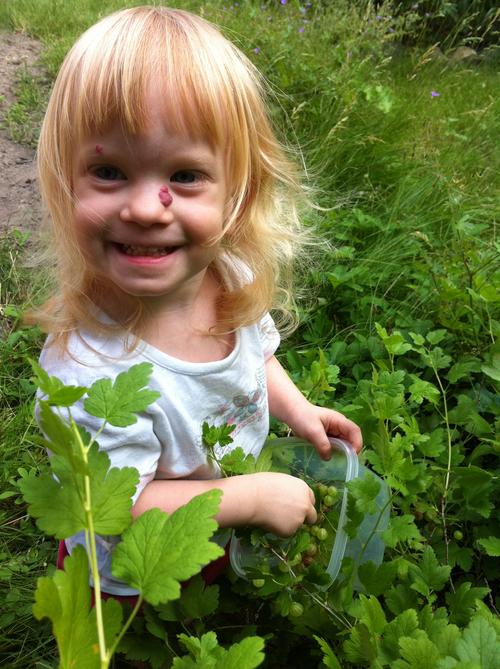 I've been meaning to show off the improvements to my garden since daffodils started poking their heads through the dirt. Those of you who've been here will know that the back garden is quite literally a mud pit as we've been remodelling in the hopes of preventing another ice-box next spring.
Before my mom left for Angola last year, she planted a whole bunch of plants from her garden. My favourite was the totally cool Jack-in-the-pulpit. I'm really hoping it comes back next year and brings friends.
Those of you remembering me complaining about the naughty carpenter ants might be thinking: "hey, those aren't carpenter ants". You are right... That's a picture of the OTHER ant infestation we discovered this summer. Hopefully they've all moved out now.
I've got a little vegetable garden (beans! tomatoes! cucumbers! potatoes!) and Elizabeth helped me plant, weed and water faithfully all summer.
Then Auntie Heather helped me take back the neglected-while-we-renovated-inside front gardens. When my mom visited this year I got her to help me finish the job, planting another couple hundred daffodil and tulip bulbs. The squirrels are very happy, but hopefully they've left a couple of them in the ground. I'm also hoping that some of the mini roses Grandma and Elizabeth planted overwinter successfully.
I don't know what that ugly bug is (do you?) but there were numerous moltings all over Ottawa late summer. Elizabeth and Erika liked them so much they kept one in the playhouse as a "pet". Which they pretended to feed. I had a moment of feeling sorry for my mother who had to put up with my pet worms and slugs (and Brendan's mom who had to deal with indoor caterpillar races), before figuring at least the bug wasn't a) alive or b) indoors!
1
On October 22, 2011 at 07:29 am
Grandma H.
said:
Very impressed with the potatoes and other produce...and so nice to see your spring flowers! So glad they survived. The Jack-in-the-pulpit is quite hardy, but spreads very slowly;woodland plants all orginally from Vera's place.
You might also like
- Garden
(0.425819)
- Racoon proofing
(0.393678)
- Hawaii
(0.393654)
- Garden
(0.38645)
- Garden
(0.383576)
All