October 24, 2011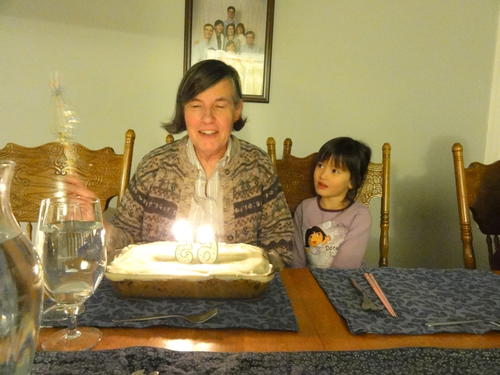 Despite Grandma J's best efforts to avoid her birthday this year, we eventually celebrated in proper style with yummy Chinese food and gluten-free carrot cake. Grandma came back from epic cruising with Grandpa only to leave immediately on a week-long business trip, but now that she's back she says she's really retired now :) Elizabeth said that Grandma left Grandpa behind because Grandma knew that Elizabeth wanted to play with him. When she's three, Elizabeth's apparently going to go on a business trip too. And maybe she'll take Grandma with her. Or Grandpa. Because Grandma gets to go on more airplanes. Mommy doesn't get to go because Elizabeth will be big then.
Auntie Janice made Grandma those nifty earrings - my baby sister is pretty talented, yes?
1
On October 30, 2011 at 08:44 am
Grandma H.
said:
Yes, she is!

Elizabeth just makes me giggle!
You might also like
- Grandpa J's birthday
(0.337232)
- Off to Japan
(0.336066)
- Making friends with Grandma
(0.32971)
- Kid Math
(0.325733)
- Grading for a brown belt
(0.32491)
All