October 29, 2011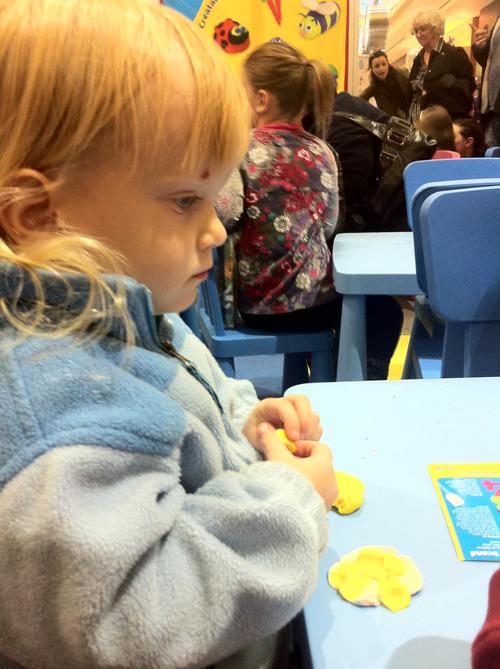 Before having children, I never knew it was "a thing" for shopping malls to put on shows for little kids. In any case, I heard that St Laurent was hosting a free My Little Pony show this weekend and since we drive right past after Elizabeth's swimming class I thought it sounded like fun, if potentially overly merchandised.
It turned out to be surprisingly amusing, if rather unseasonal. I don't think Elizabeth has seen any cartoons yet, and while I had a few toy ponies as a kid I don't think they survived the move from Belgium. So she wasn't exactly singing along with the theme music like the other kids, but she did seem to enjoy the show. The plot was a rather saccharine story about all working together to accomplish your goals (in this case, clearing away the winter clouds to get ready for spring), but I couldn't help but be impressed by the athleticism of the dancers. They certainly could kick their legs up high!
After the show we visited Chuck the Truck. Unfortunately that was a bit of a disappointment since it was an opportunity to take a photo with a giant plush truck. Elizabeth thought they should have let kids climb it. We also visited the Playdoh activity center, where they were handing out free playdoh for kids to play with. Elizabeth really enjoyed that, though she was pretty tired by then. Later she made quite a credible chicken. I would have admired it more and taken oodles of pictures except that she brought it to me for oohing and ahhing during work time. After work she'd already mashed it into about six other different creations. Oh well! The Playdoh people also had a whole bunch of laptops setup with My Little Pony games, and toys still in the plastic on display, but nothing actually for sale. This surprised me, but I guess it's a more subtle branding exercise.
1
On November 6, 2011 at 04:28 pm
Rachel @ Grasping for Objectivity
said:
That looks like fun!! I'm always shy of these sorts of mall events because they're so dang crowded. Your mall looks pretty packed, too! You're a better Mom than me :)
You might also like
- Child Labour
(0.407553)
- Billings Estate
(0.406051)
- Buskerfest
(0.405995)
- Chateau Laurier
(0.405694)
- Party Day
(0.401831)
All