April 26, 2009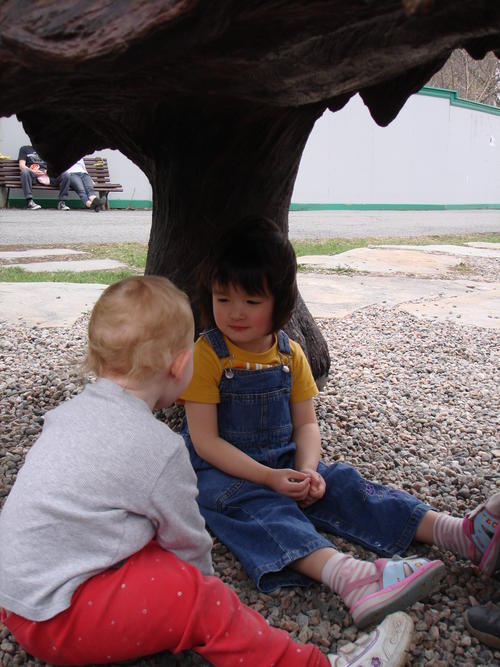 Erika and Auntie Yukiko came over yesterday to play with Elizabeth and me while Uncle Chris and Dad spent some quality time pulling down our ramshackle excuse for a fence. It turned out that more than the fence came down - with the enthusiastic help of our neighbours. We only left the boys alone for a few hours!
I did know this was happening, but losing the fence and entire hedge was not quite what I had envisioned as the end result. Erika thought it was all very interesting, especially helping water the bits of cedar we replanted. Elizabeth was just happy to be able to nap on Auntie Yukiko.
Later in the day Elizabeth made her first visit to Britannia Yacht Club to see Kokopelli. We forgot the camera and to Mike's great horror we also forgot her hat! She seemed pretty interested in all the boats, but quickly fell asleep once we got to the club.
There was a massive windstorm (and maybe a tornado) that especially damaged houses and trees in the Britannia area less than an hour after we went home. What a storm! Our newly replanted cedar bits are all leaning at a bit of an angle but otherwise we experienced no damage. We did field a call from my sister wondering what to do with my parents' gas bbq which was flipped right over.
You might also like:
-
Racoon proofing
-
Visitation and Recital
-
Happy Birthday Uncle Chris!
-
A shower and the Great Glebe Garage Sale!
-
Mary Day