November 4, 2011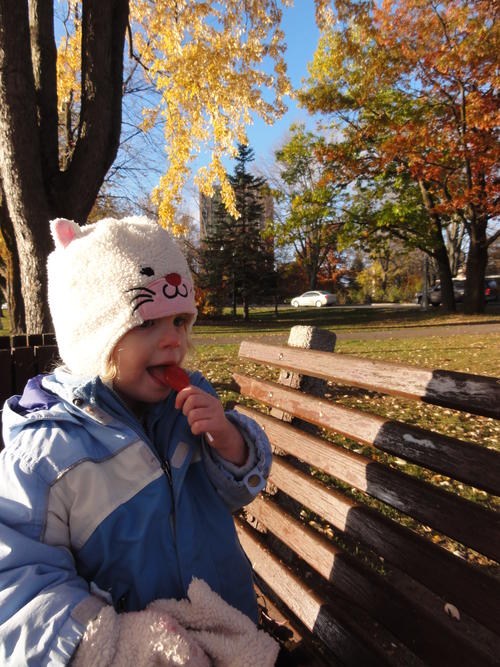 It's been abnormally warm and sunny here in the supposed frozen North (aka Ottawa). Not that we are complaining! We thought that the August-like temperatures around Thanksgiving was our "Indian summer" but seems that we're having an Indian fall instead! We had our frost, temperatures dipped to a chilly minus six (that's 21.2 fahrenheit for those non-metric readers) and I started my annual discussion of about whether or not it is time to turn the heat up just a little bit because it's COLD donchaknowhusbanddear? We turned the heat on, put the warm down duvet on the bed, got out the long sleeved pjs and braced for winter.
So of course it's been 14 degrees outside (that's 57.2 fahrenheit) and we're practically still in shorts and t-shirts.
The downside is that the red leaves are therefore a bit muted this year. One of the many things I've learned since having a small child is why the leaves change colour in the fall. Also, one of the most adorable things in the world is Elizabeth trying to pronounce chlorophyll and photosynthesis.
Did you know that all leaves are yellow or orange underneath? When photosynthesis slows down due to lower light levels and cooler temperatures, the green chlorophyll stops covering it up. Glucose gets trapped in some leaves (eg maples) and the cold turns it red. The waste products in other leaves (eg oaks) turn brown.
1
On November 16, 2011 at 09:05 pm
Rachel @ Grasping for Objectivity
said:
It's been warm here, as well. But I suppose that's no surprise. But oddly warm. Luckily for you, you don't get tornadoes when it's oddly warm. We got a few today, in fact.
You might also like
- Hemangioma update
(0.353922)
- River Oak
(0.351594)
- Sheep Shearing Fest
(0.348264)
- Cumberland Heritage Museum
(0.347788)
- Cows
(0.347073)
All