November 10, 2011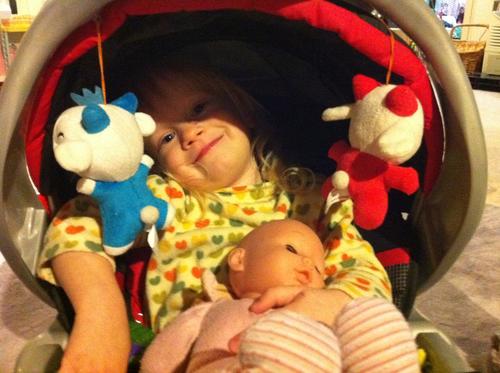 Left to her own devices, Elizabeth mostly wants to play down in "my base-ent". It's been more than a month but at least she doesn't want to just sit in front of the car seat rocking it anymore.
Now Elizabeth takes baby (in carseat) to do things. Our laundry room is the dairy (baby goes to see the milking cows). Our server room is the horse barn (baby goes to see beef cows). Sometimes baby goes shopping. Baby buys oranges, cherry yoghurt, Lizbeth milk and chocolate. Elizabeth drinks homogenized milk instead of the 1% her parents prefer.
Recently she's started to pretend to be baby herself. She loves to climb in and be handed all the "baby" toys. Then she gets "chilly" and asks to have a blanket put over her head like a tent. Sometimes I wonder about where she gets her ideas about how to look after babies...
She's even managed to talk her cousins into playing the part of the baby now.
You might also like
- Strangers
(0.349702)
- Spring
(0.349315)
- Music Recital (reprise)
(0.341033)
- Pregnancy Announcement
(0.334232)
- Matthew
(0.332875)
All