November 20, 2011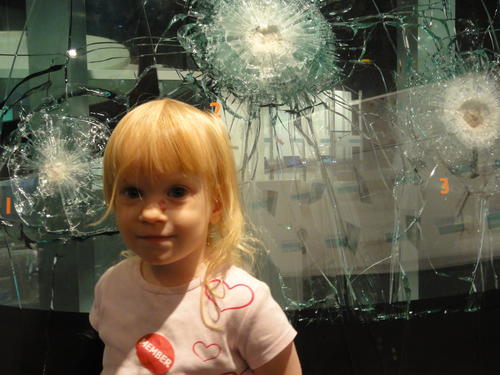 We went to the museum of Science and Tech for Science and Kids day. We haven't been there in a while because Elizabeth finds it very loud and a bit overwhelming. Besides, the other museums are a bit closer to us!
We were greeted at the door by Pixel the robot, who was surrounded by kids trying to get him to do things. "Can you dance?" asked one little boy. "I can!" the robot proclaimed in a deep voice before demonstrating his spins to music. "Can you dance?" the excited gaggle of kids demanded again. "I just did" said the robot. "Do it again!" they demanded. "What's the magic word?" the robot asked. "Pleeeease????" asked the kids. And so the robot danced again. This time one of the staff joined in and helped Elizabeth twirl around to the music too.
Then we headed to the trains. "I'm so 'cited" she giggled (trains are currently a BIG interest). The energy exhibit is a bit too old for Elizabeth so we didn't spend much time there but all were interested in the gorgeous new glass exhibit. It's so beautiful I'd like to bring some of it home with me... Maybe in the basement somewhere, someday? Not the bullet hole part though! Brendan thought the motion detector enabled privacy glass was neat too.
Soon the ambient noise and especially the loud buzzing sounds from the electricity demo started to hurt Elizabeth's ears and it was time to go home. But not before pretending to be network packets with Mom and Dad.
You might also like
- Wedding prep
(0.381074)
- Piano Recital
(0.373057)
- Good Friday 2015
(0.37247)
- Cottage Days: Feeding the deer
(0.369592)
- Skating
(0.369492)
All