November 24, 2011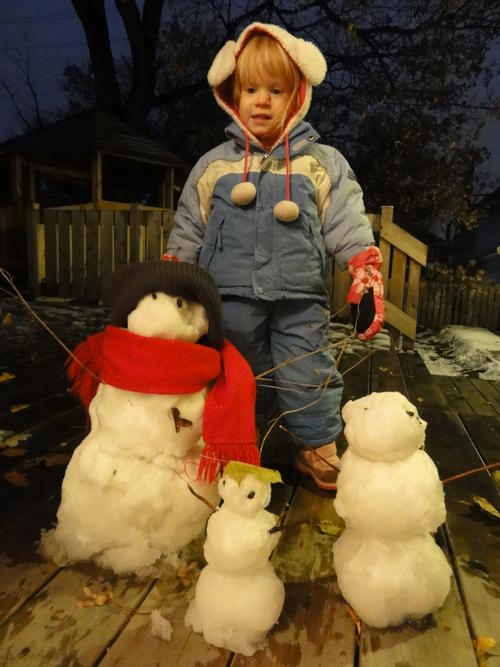 The forecast told us that we'd be saying goodbye to winter and hello again to fall. So when Elizabeth decided she wanted to make snowmen, we seized the moment. It was getting dark and the snow was so wet that it instantly soaked through our mittens but soaring temperatures meant the wet hardly mattered.
By morning baby and mommy snowman went "on a trip" while the Daddy decided to take a nap. The temperature rose to nearly twelve degrees! At the end of November! In Ottawa!!!
Elizabeth was a bit sad to see the snow go.
Very odd to have mosquitoes buzzing around while putting up Christmas lights, so while we've been enjoying the mild weather this family is ready for a really cold snap now. Besides, we need the canal to freeze so we can skate...
1
On November 29, 2011 at 05:48 pm
Rachel @ Grasping for Objectivity
said:
Cute snowmen!! We were supposed to get flurries and a dusting today (which never happens in November!! In Alabama!!), but I didn't see a flake. :(
You might also like
- Boxing Day
(0.365031)
- First Snow
(0.34488)
- First Canal Skate 2013
(0.339434)
- Easter Sunday
(0.334842)
- Elizabeth's first cold
(0.33165)
All