November 27, 2011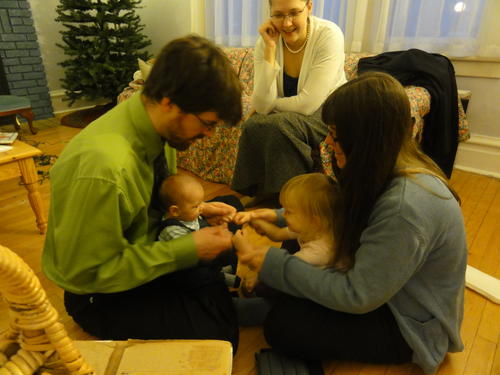 Not only did Elizabeth and I teach Xander how to play patty cake, we showed Uncle Dave too!
Then I held my baby (Elizabeth) while she held "hers" (Xander).
Xander cried when he had to go home. Since Elizabeth spends hours rocking dolls in car seat in "her base-ent", you won't be surprised to find out she's an expert car seat rocker, even under the noisiest of circumstances. She would have been sad to see Uncle Dave, Auntie "Taren" and "Yander" go home, except that it meant that she got to go outside in the dark to see the "Tissmass lights".
She did duly bless them all at prayers that night and then demand to know why they couldn't just stay and sleep in the basement. The guest room is apparently reserved for Josie and Daniel, who are probably coming for breakfast. If not tomorrow, then the next day. Or yesterday.
Elizabeth often talks about things that happened "yesterday", which is defined as sometime in the past and possibly as recently as fifteen minutes ago.
1
On December 10, 2011 at 04:25 pm
Grandma H.
said:
Seeing these wonderful pictures is my baby therapy!
You might also like
- First Sleepover
(0.368539)
- Freak Snowstorm
(0.348659)
- Crachel
(0.348485)
- Decision making study
(0.346764)
- Doors Open Ottawa: Wild bird rescue
(0.34626)
All