November 30, 2011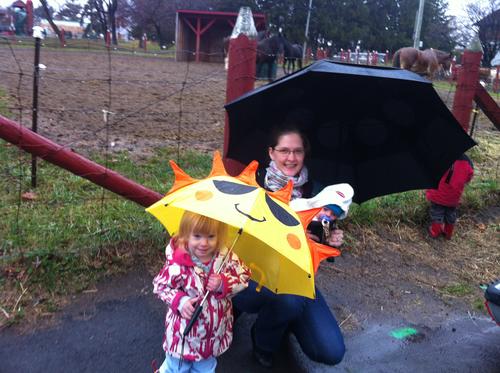 Xander's first trip to the Agriculture farm!
We took a picture with Jamie the cow, also born late September (just a few days apart). Jamie was very friendly, but Xander wasn't impressed.
Elizabeth made a snowman out of playdough and then spent a good half hour playing "peng-in" and snowman with one of the very patient guides. Penguin and snowman played hopscotch, tag and hide and seek.
1
On December 10, 2011 at 04:17 pm
Grandma H.
said:
Ha, ha, Jamie the cow maybe has to work on his breath. Love the umbrella!
You might also like
- Strawberry picking
(0.303523)
- My doll is made of baby
(0.28841)
- Winter sticks
(0.287912)
- Children's Museum
(0.286432)
- Saturday bo
(0.285714)
All