December 6, 2011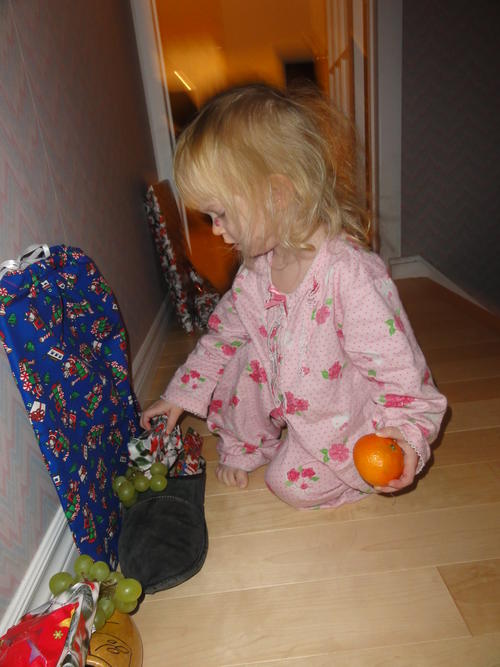 Elizabeth was so excited when she woke up that she bounced out of bed and practically flew across the floor.
"Ook, Momma! Oranges and dapes and pesants and moneys!" It didn't take her long to unwrap everything and zero in on the important stuff... the chocolate.
She loved her marzipan sheep, kissing it and making it talk to the chocolate St Nicholas. (Ed note: A full week later and while sheep no longer has head or feet, the chocolate "mans" are still all intact because she's having too much fun with using them as action figures during work time)
When asked what she received for St Nicholas, she very consistently mentioned the oranges, the chocolate, the (chocolate) money, cookies (Speculaas!) and the grapes. The actual presents? Not a word. Even when prompted she tends to look at you as if she has no idea what on earth you are talking about.
She is enjoying playing with her new toys, but we're still considering whether we should spread out Christmas gifts a bit.
The donkey's carrot was our one major miscalculation. "MOMMA! DONKEY DIDN'T EAT DA TARROT!" See, donkey is accustomed to taking strategic bites out of the carrot and being a bit messy. Elizabeth took this as a personal insult. She was very, very worried and wanted to go straight to the Agriculture museum to tell him off and make him finish it. Because of course St Nicholas would use Eeyore when travelling in Ottawa, it just makes sense!
1
On December 17, 2011 at 04:23 pm
Grandma H.
said:
too funny! Maybe Donkey already had supper? That sheep looks positively edible.
You might also like
- St. Nicholas
(0.390608)
- Christmas
(0.387316)
- Elizabeth
(0.370405)
- Sleeping Beauty
(0.368227)
- Je d'école
(0.367505)
All